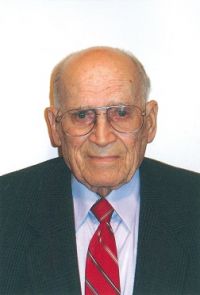 January 28, 1913 - October 15, 2011
Visitation
Tuesday, October 18th from 4-8 p.m.
Service
Wednesday, October 19th at 11 a.m. Church of the Saviour, U.M.
BECK
Marston K. Beck, 98, formerly of Westerville, Ohio, went to be with his Lord and Saviour on Saturday, October 15, 2011, in Marysville, Ohio at 9:50 a.m.. He was born in Westerville on January 28, 1913. He graduated from Westerville High School in 1931 and retired from Columbia Gas Company. Marston was a member of the Westerville Church of the Saviour United Methodist for 72 years. He was a faithful attendee of Camp Sychar Holiness Camp (Ohio), Avon Park Holiness Camp (Florida), Bible Literature International and Christian Endeavor. He enjoyed collecting and fixing old clocks and watches, gardening, painting and reading his Bible. He was preceded in death by his wife of 45 years, Helen O. (Hildreth) Beck; brothers, Ronald D. Beck and Loren E. Beck; sisters, Doris Levay Beck and Mildred L. Costick; father, Ellsworth P. Beck; and mother, Lenora L. (Jenkins) Beck. He is survived by daughters, Martha J. Miller of Tallahassee, FL, Sandy L. Spain (Donald C.) of Marysville, OH, Barbara K. Bush and June E. Darnell of Canal Winchester, OH; numerous grandchildren, great-grandchildren and great-great-grandchildren; special friends, Nelda Green, Chuck Edwards and "His Suzie" (hospice nurse). Family will receive friends Tuesday, October 18th from 4-8 p.m. at the MORELAND FUNERAL HOME 55 East Schrock Road, Westerville. A service will be held Wednesday, October 19th at 11 a.m. at the Church of the Saviour United Methodist, 11239 Fancher Road, Westerville with visitation one hour prior. Rev. Becky Piatt and Dr. J. Gary Campbell officiating. Interment Pioneer Cemetery, Westerville. Due to family allergies, please do not send flowers. Memorial contributions may be made to Camp Sychar, P.O. Box 708, Sunbury, OH 43024 and Loving Care Hospice, 779 London Avenue, Marysville, OH 43040.
Condolences
Yvonne Perry - Oct 16, 2011
I attend Crescent Hill Presbyterian with Perry and Stephanie in Louisville, KY. I am sorry for your loss – I will pray that, in time, you are able to celebrate the life, memories and family members you shared with him.