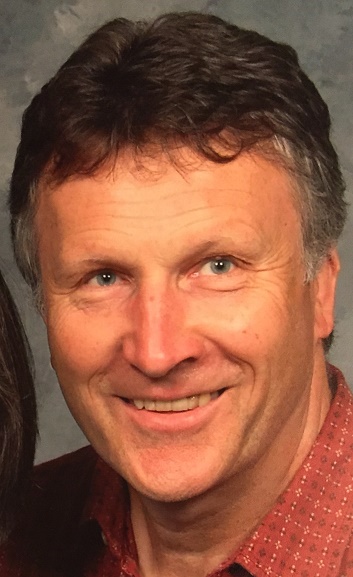 May 11, 1955 - June 7, 2015
Visitation
Friday, June 19th from 6-8 p.m. Moreland Funeral Home
Service
Saturday, June 20th at 11 a.m. Grace Lutheran Church
Mark Alan Bennett May 11, 1955 – June 7, 2015
Mark Alan Bennett, 60, died in his home on Sunday, June 7th after a two year battle with brain cancer. Mark is preceded in death by his father, Robert Bennett, and many beloved family members including Jean, Donna, George, Dick, Howard, Donna, and John.
Mark, a boy of Wisconsin roots, received a BA in Biology from St. Olaf College in Northfield, Minnesota in 1977. He then spent three years as a high school science teacher in Manitowoc, Wisconsin before returning to school to pursue advanced degrees at the University of Minnesota. After earning his PhD in Horticulture, Mark and his young family of five moved to Ohio in 1986 where Mark accepted a position as Assistant Professor in the Department of Horticulture at The Ohio State University. During a twenty-nine year career at OSU, Mark established a nationally recognized research program in vegetable production, and he provided leadership to an extension program that positively impacted many Ohio vegetable producers. Mark was a highly regarded teacher and mentor of both undergraduate and graduate students, and he had the privilege of working regularly with other horticulturists around the world – creating meaningful partnerships in Brazil and Tanzania. He was inspired by his work, had a passion for the earth, and thrived on sharing this passion with his colleagues, friends, and family.
Those close to Mark will embrace the many ideals that he leaves behind. Mark shared with us the joy of learning, his truth that curiosity and an open-mind reap great rewards always. Mark shared with us the often overlooked value of the simple, of the ability to find pleasure in the subtle beauty that surrounds us. And Mark shared with us the value of gratitude, of the importance of honoring what is given to us through hard work and love.
These beloved elements of Mark's spirit will be carried on through the family he loved and admired so much: his mother, Carol Bennett; his wife of 36 years, Joanna, and their three children: Jacob Bennett and wife, Lindsay; Maren Traeger and husband, Jake; Laura Calland and husband, Eric; through his six grandchildren – Braden, Kylie, Bennett, Reid, Mara, and Kora – all of whom Mark loved to watch as their personalities unfurled; Mark's younger siblings – Robbie Jensen (Larry), Kathy Nelson (Craig), and John Bennett (Nora) – and Mark's many in-laws, aunts and uncles, cousins, and loved nieces and nephews with whom he shared great memories.
It was important to Mark that those close to him understood the incredible thanks he had for the role they played in his life. Thanks to our friends, our neighbors, and our fellow church members at Grace Lutheran and Rush River Lutheran. Thanks to the team at The James Cancer Center and Novocure. Your love and kindness did not go unnoticed by MB.
In celebration of Mark's life in Christ, visitation will be held on Friday, June 19th from 6pm – 8pm at Moreland Funeral Home, 55 E. Schrock Rd Westerville, OH 43081. The service will be held Saturday, June 20th at Grace Evangelical Lutheran Church 100 E. Schrock Rd. The Service will begin at 11 am with a visitation starting at 10 am. A memorial service will also be held at Rush River Lutheran Church in Beldenville, WI on Saturday, July 25th. Visitation will at 10 am with the service to follow at 11 am. If unable to join us, we would love for you to celebrate Mark's life in your own way – go for a walk, plant something, enjoy the paper with a cup of coffee – anything that makes you remember him fondly.
In Mark's memory, donations may be made to The Nature Conservancy (www.nature.org), Grace Evangelical Lutheran Church (www.Grace43081.org), or in support of the horticulture teaching program at The Ohio State University (Attention: Ms. Jennifer Heller, CFAES Development Office, 216 Howlett Hall, 2001 Fyffe Court, Columbus, OH 43210).
Condolences
Deanna Schwersenska Fletcher - Jul 29, 2015
Oh Joanna I'm so sorry to hear about your husband's passing. He sounded like a super person. I pray for your strength. Sorry
Kathy Tebbe - Jul 27, 2015
Joanna, Dan and I are sending hugs and loving thoughts for you and your family. It sounds like Mark was an amazing man, husband, dad and friend. We never know when our time is up and leave this earthly life. Keep those loving memories with you and your family and he will be with you forever. Love to you, Kathy (Albers) and Dan Tebbe
Diane Metzler Williams - Jul 25, 2015
Joanna,
Thinking of you and your family and sending heartfelt condolences.
Thank you for reminding us all to cherish the moment at hand.
Fondly,
Diane
Linda Jagusch Wrzos - Jul 24, 2015
Joanna, I was saddened to hear about the loss of Mark. May he now be at peace and without pain. My deepest sympathy. Linda Jagusch Wrzos
LAURIE (THOMPSON) FROST - Jul 24, 2015
Joanna,
So sorry to hear about the loss of your husband.
My sincerest condolences.
Laurie Frost (Thompson)
Aziz Baameur - Jun 29, 2015
Ma God grant you the patiece and strength in thiese difficult time. I've met Mark while I was a new graduate student. He laways impressed me with his knowlwdge, fortitude, and apparent integrity. He was loved by all of us who came to know him. We had internittent contacts over the year and I am sorry I won't be able to reach out and get in touch, no matter how infrequently.
My heart-filled condolences to the whole Bennett family. Aziz
Erica Haugtvedt - Jun 19, 2015
I was saddened to learn of the Bennett family's loss. The Haugtvedt family sends our thoughts and prayers in this challenging time. We have fond memories of the Bennetts from nearly 20 years at Grace Lutheran together. Laura and I were fellow English majors at Ohio State. We hope that you find a light in all the sorrow, and know that you will be reunited in heaven again someday.
Sue Shaw - Jun 19, 2015
Joanna,
Keith and I are so sorry to hear of your loss! We cherish many great memories when you lived in Manitowoc. God bless you and your family.
Bob Talley - Jun 16, 2015
Joanna and Family…My heart felt sympathy to all of you. You may not remember me, but I remember all of you. You were a wonderful Huber family I was so proud to know. My thoughts and prayers are with all of you.
May God comfort each of you during this sad time.
Peace be with you! Bob
Deb - Jun 16, 2015
Joanna,
I just heard of Mark's passing. I am thinking of you and your family. My deepest sympathy to you and all.
Peace,
Deb
Craig Fendrick - Jun 16, 2015
Really enjoyed working with Mark, he will be sorely missed by all of us at the Waterman. Our most sincere heartfelt condolences for your loss.
Karen Miller - Jun 15, 2015
Joanna,
I am deeply saddened to hear of Mark's death.
My heartfelt condolences to you, and your family, at this difficult time.
Karen
Jill Brown - Jun 15, 2015
I'm so sorry to hear of Mark's passing. I feel privileged to have gotten to know Mark and the Bennett family over the past couple of years. You all are in my thoughts.
Randall Saunders and Family - Jun 14, 2015
Your family is in our thoughts at this difficult time. Mark will be fondly remembered by all who knew him!
Karla & Tom Creamer - Jun 14, 2015
Our deepest sympathy Joanna, children and family. May God Bless you all during this difficult time. Mark will always be remembered in your hearts.
Maren Traeger - Jun 13, 2015
UPDATE: A memorial tribute account has been set up in Mark's name at the Nature Conservancy. If you choose to donate to this organization in memory of Mark, please include the following account number when making your donation: #3139981. Donations can be made by phone at 1(800) 628-6860 or by sending the gift, along with a note, to the following address:
The Nature Conservancy
Attn: Treasury
4245 N. Fairfax Drive, Suite 100
Arlington, VA 22203-1606
Beckie Gilbert - Jun 12, 2015
My thoughts and prayers are with you and the family!
Jody Whittier - Jun 12, 2015
So sorry for your loss.
Kathy Slaven - Jun 11, 2015
Prayers to you and your family. Mark left his mark on this earth and in the hearts of his loved ones.
Deb (Dahms) Larson - Jun 11, 2015
I'm so glad I was able to reconnect with Mark on FB and get to know him a little as a "grownup" – All the wonderful attributes he possessed as a kid just got bigger and better.
My condolences to his beautiful family,
Deb Larson
RFHS Class of 73