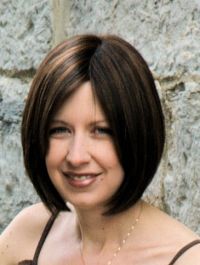 October 4, 1976 - January 21, 2013
Visitation
Friday, January 25, 2013 from 4-8 p.m.
Service
Saturday, January 26, 2013 at 10 a.m., Heritage Christian Church
GRENNAN
Lori (Gill) Grennan, D.O., age 36, of Lewis Center, OH. January 21, 2013 at Riverside Hospital after a courageous and inspirational 40 month battle with inflammatory breast cancer. Lori will be remembered as a loving wife, mother, daughter, sister, friend and dedicated physician. Ohio Health Family Medicine Physician and member of Ohio University Heritage College of Osteopathic Medicine Clinical Faculty. Graduate of Westerville North High School, Ohio University and Ohio University College of Osteopathic Medicine. Active member of northchurch in Lewis Center. Lori raised over $ 100,000.00 for Inflamatory Breast Cancer (IBC) research. Survived by her husband, Kevin; son, Liam (7); daughtyer, Nora (4); parents, Sheila and Jerry Gill of Westerville; brother, Matthew (Rebecca) Gill of Galena; sister Kara (Zachary) Kent of Worthington; grandfather, William Gill of New Albany; mother-in-law and father-in-law, Thomas and Kathleen Grennan; sister-in-law, Leslie Dean; brothers-in-law, Thomas (Amy) and James Grennan. Friends may call at the MORELAND FUNERAL HOME, 55 E. Schrock Road, Westerville, Friday 4-8 p.m.. Service will be held at Heritage Christian Church, 7413 Maxtown Road, Westerville, Saturday at 10 a.m.. Interment Kingwood Memorial Park. In lieu of flowers, contributions may be made to IBC Network Foundation – Ohio. www.theibcnetwork.org/donate/ or The IBC Network Foundation, P.O. Box 908, Friendswood, TX 77546.
Condolences
TeAndre T. Willis - Apr 8, 2013
My Condolences to your family from the Willis family. Forever in our prayers from Teandre T. Willis and family.
Mary M. Watson - Jan 26, 2013
Dear Kevin and family,
We are so sorry to hear about Lori's passing, and want you to know you have our deepest sympathy. May God Bless you and your children. Russell and Mary Watson
Roger Watson - Jan 24, 2013
Kevin,children and the Grennan family,
I'm sorry to hear of your loss. You have my deepest sympathy. I will continue to pray for you and ask God to give you peace and comfort as only he can.
God Bless You
Bealer Family - Jan 23, 2013
Thank you for the honor of knowing and sharing the love of the Grennan Family. Our thoughts and prayers are with you.
Live, Laugh, Love, Forever!!!
Clark and Cathy Kent - Jan 22, 2013
Our words could never express our deep sadness for your loss. Lori was beauty…inside and out. She accomplish so many spectacular and meaningful tasks in the short time she was on earth. Here legacy will continue on for a very long time and will touch so many lives. God has taken her pain away and given her eternal peace and love. She is in the arms of our Savior and Lord…wow, what an awesome reward. We continue to pray for all of you…may God's peace and love enfold you in his mercy and grace. Clark and Cathy Kent