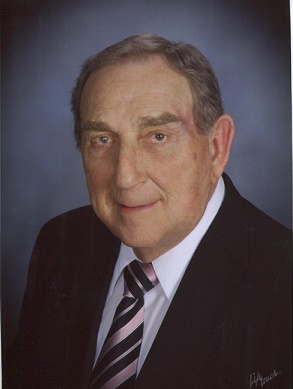 January 24, 1925 - November 9, 2015
Visitation
Wednesday, November 11th from 9:30 a.m. to 11:00 a.m.
Service
Wednesday, November 11th at 11:00 a.m. Moreland Funeral Home
Burial
Zanesville Memorial Park
LOEBELL
Loren "Morrie" Loebell, age 90, of Westerville, OH passed away peacefully at home Monday, November 9, 2015. A member of Central College Presbyterian Church, Amity Lodge no. 005 F & AM, Kyber Run Golf Course where he will be missed. Veteran of Navy Air Core. He was also a great friend and inspiration to many neighbors in Annehurst where his presence will be missed. Preceded in death by his, wife, Donna J. Loebell and special friend, Carol Derry. Survived by daughters, Linda (James) Geyer of Zanesville and Susan (Jeff) Sands of Florence, KY; grandchildren, Geoffrey (Rebecca) Geyer, Jonathan Geyer and Stacey Sands (Zach Neiheisel); great-grandchildren, Lexie and Scott Geyer. Visitation will be held Wednesday, November 11th from 9:30 am to 11:00 am at MORELAND FUNERAL HOME 55 East Schrock Road, Westerville, OH with a service to follow at 11:00 am. A graveside service will be held at 3:00 pm at Zanesville Memorial Park. Contributions may be made to Juvenile Diabetes Research or Ohio Health Hospice.
Condolences
Paul Martin - Nov 12, 2015
Morrie was a great cousin. Always kept us laughing. He will be missed!.
Pamer Houseman - Nov 11, 2015
Susan and Stacey:
So sorry to hear about your father/grandfather. I know you loved him so much and he loved both of you. Our thoughts and prayers are with you during this time.
Hugs,
Kim and Pam Houseman
Jim and Sandra Miller - Nov 11, 2015
Our love and prayers to the family. May he rest in peace with all the faithful departed.
The Barrys - Nov 10, 2015
We were so sad to hear about Uncle Morrie. Will miss his laughter, & being a big goofball with our kids. Smile at the great family memories from Zanesville when we were kids too. Uncle Morrie (& Mama Donna) were such great people, they showed us all how to love life, & love each other. Can't do anything but smile thru the tears. Love, hugs and kisses to all of you. Barb, Mike, Sam, Brian & Jake Barry
Judi Dennis - Nov 10, 2015
Sending love and prayers!