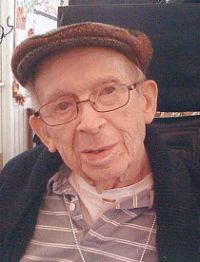 December 26, 2010
Visitation
Tuesday, Dec. 28th from 2-3 p.m. Westerville Bible Church
Service
Tuesday, Dec. 28th at 3 p.m. Westerville Bible Church
BECK
Loren E. Beck, age 96, of Westerville, OH. December 26, 2010. Retired from
Defense Construction Supply Center. Member of Knights of Pythians for over
50 years. Former member of Powell United Methodist Church and McKendree
United Methodist Church. Army veteran of World War II. Survived by daughter,
Jeanne Beck of Marietta; brother, Marston Beck of Marysville; nephew, Neil
Costic of Mt.Vernon. Preceded in death by wives, Elizabeth "Betty" (Ault) Beck and Betty (Morgan) Beck. Friends may call at the Westerville Bible Church, 2665 Schrock Road, Westerville, Tuesday 2-3 p.m. where service will follow at 3 p.m., Pastor Paul Hamilton, officiating. Private interment Glen Rest Memorial Estates. In lieu of flowers, contributions may be made to Odessy Health Care or
any Veterans organization. Arrangements by MORELAND FUNERAL HOME, Westerville, OH.
Condolences
Rev. Sandy Huber - Jan 6, 2011
On the different occasions I visited Lauren, I was blessed by his kind manner, his interest in others and his faith-filled outlook on life. My prayers are with you as you mourn his loss and as you remember the joys of his life.
wygrosh - Jan 5, 2011
hJPu9I qgustzjwcmbi, [url=http://szwhljnkvpzv.com/]szwhljnkvpzv[/url], [link=http://sdcgmnrxblqa.com/]sdcgmnrxblqa[/link], http://yvqmhumtdpiq.com/
Melissa Gantner - Dec 27, 2010
My thoughts and prayers are with you. Mr. Beck was a kind man and he was always a pleasure to visit.
Jennifer (Outlook Manor) - Dec 27, 2010
It was a real pleasure to get to know your Dad. I thought the world of him! His little smiles he gave me brightened my day , he was a very lovable, kind. My thoughts and prayers are with all of you.