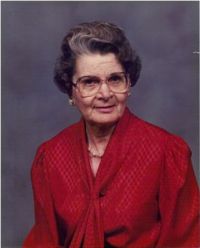 August 13, 1915 - March 25, 2012
Visitation
6-8 p.m. Thursday March 29, 2012
Service
11:00 a.m. Friday
LOY
Lona Almina Johnson Loy, 96, died March 25, 2015. She was born August 13, 1915 in Erwin, West Virginia. She was a Pastor's wife, loving mother, high school teacher, and artist. She received her B.A. from Wittenberg University and her M.A. from Ohio State University. She taught Home Economics for 28 years, first in Salem, next in Pioneer, Ohio. She went on to teach in North Adams, Michigan. From there, she returned to teaching in Ohio schools in Otway, Cincinnati, and finally Columbus. She enjoyed traveling and visiting countries in Europe and South America, as well as many States of the U.S. during the summer months. After retirement, she moved to Friendship Village of Columbus, where she could be found almost every day in the Arts and Crafts room. Over time, she became known as the "Village Artist" for her beautiful paintings and drawings. Lona was a long time member of Grace Lutheran Church in Westerville, Ohio. She is preceded in death by her father, Amaziah Johnson, mother, Louise Evalina Long Johnson and two brothers, Frank Johnson and Benjamin Johnson and sister, Mary Johnson. She is survived by her daughter and son-in-law Barbara and David Doll of Westerville, two grand children, Deborah (Matt) Doll Abbott of San Diego and Michael (Lisa) Doll of Columbus, and five great grandchildren, Katherine McMahan, Kelly McMahan, and Matthew McMahan of San Diego, and Jacob Doll and Emily Doll of Columbus. We will greatly miss her, and always love her. Friends may call at the MORELAND FUNERAL HOME 55 East Schrock Road Westerville, Thursday 6-8 p.m. Funeral service will be held 11:00 a.m. Friday March 30, 2012 at Grace Lutheran Church 100 East Schrock Road Westerville with visitation one hour prior to service. Pastors Will Hartfelder and Richard Walston officiating. Interment Forest Lawn Memorial Gardens.
Condolences
Janice Kleinline - Mar 30, 2012
You have my sincere condolences. Lona and I taught together for two years at Berry Jr. High School in Columbus, Ohio. She was a remarkable woman and loved to talk about her family – so proud of all of you. Wonderful artist and loved to travel. Glad that she was my co-worker and friend.