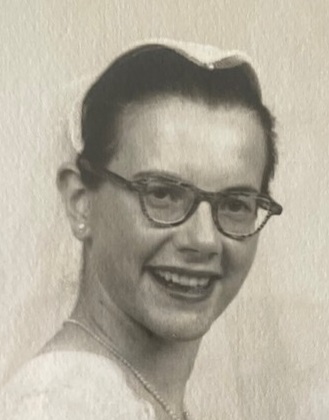 May 8, 1937 - March 6, 2023
Lois Bergen Meyst of Westerville, Ohio passed away on March 6, 2023 at the age of 85. Lois was born in Sheboygan, WI on May 8, 1937 to Ora And Henry Bergen, joining her older sister Carol. She was raised in Fond du Lac, WI and attended public schools there where she was a very bright and promising student. Lois met her husband of 63 years, Peter Meyst, as a high school sophomore. They married while attending the University of Wisconsin - Madison in 1957 and moved into married student housing with the assistance of both sets of parents. After welcoming her first child, Lois graduated with a Bachelors degree in History. She continued her graduate studies until she and Peter relocated in support of his career.

Lois and Peter moved their growing family several times in pursuit of opportunities, allowing them the chance to reside in many states, including Indiana, Ohio, Michigan, Pennsylvania and Connecticut. Lois entered the work force once her children were older and enjoyed varied careers in personal investment and insurance. She worked for CIGNA in Westerville prior to her retirement.

Lois was a lifetime learner and history buff with a particular interest in the Civil War. She was an avid reader who loved participating in the monthly book club with their many friends in Middletown, CT. Lois enjoyed playing bridge with Peter and their friends at the card table set up in the living room and honed her skills with the daily Omar Sharif bridge column in the newspaper. She continued playing with the ladies in her condominium complex for a 25 cent prize after she retired. Lois had phenomenal recall of poems and verse and could recite many that she learned in grammar school from memory to the delight of her young children and maybe the embarrassment of her older children. Lois had a wonderful sense of humor and loved hearing jokes, telling jokes and talking with other humorous people. She really appreciated sweets and was a tremendous baker and candy maker, as a result. Her children and grandchildren looked forward to her ambitious desserts at the holidays and friends and family delighted in Christmas gifts of her fudge and toffee.

Lois and Peter greatly enjoyed birdwatching in their retirement and travelled across the United States adding new species to their life lists. They could frequently be seen, binoculars in hand, hiking in the local parks in search of birds.

Lois was preceded in death by her parents, her sister, Carol, and her husband, Peter. She is survived by her 6 children, Eric (Yevette) of Higganum, CT, Steven (Evelyne) of North Branford, CT, James (Laurie) of West Tisbury, MA, Katherine (George) of Bloomfield, CT, Timothy (Paula) of Westerville, OH and Peter (Sarah) of Marysville, OH. Additionally, Lois is survived by her 11 grandchildren and 2 great grandchildren.

In keeping with Lois wishes, no services are planned, but friends may reach out to the family with condolences.
Condolences
Julie Mathias - Mar 9, 2023
Enjoyed playing Bridge @ the party room with Lois, Betty Oliver & Claire Fohl. She was a shapr bridge player! God bless & keep you Lois