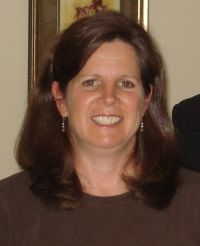 November 29, 1960 - June 17, 2014
Visitation
Thursday, June 19th from 2-4 and 6-8 p.m.
Service
Friday, June 20th at 10:30 a.m. St. Paul the Apostle Catholic Church
DUMM
Lisa Kimmel Dumm, age 53, of Westerville, OH passed away Tuesday, June 17, 2014 after a courageous battle with cancer. Lisa was a dedicated sales manager at The Worthington Inn for over 20 years, followed by a short career as a sales associate with Cheryl's Cookies. Lisa was a member of St. Paul the Apostle Catholic Church, where she managed the kitchen at the annual Christmas Bazaar for many years. She is preceded in death by her father, Harold S. Kimmel and survived by her husband of 27 years, Tim; daughter, Caroline; sons Nathan and Ben; mother, Joann Kimmel of Orbisonia, PA; sister, Susan (Patrick) Kiniry of Johnstown, PA, as well as many nieces, nephews and in-laws. Lisa will be forever remembered as a loving wife, mother, sister, and daughter, as well as a dedicated friend. The joy she brought her family and loved ones will live on in all who knew her. Friends will be received on Thursday June 19th from 2:00 p.m. to 4:00 p.m. and 6:00 p.m. to 8:00 p.m. at the MORELAND FUNERAL HOME, 55 E. Schrock Road, Westerville, OH 43081. Mass of Christian burial will be held 10:30 a.m. Friday, June 20th at St. Paul the Apostle Catholic Church 313 North State Street, Westerville. Interment will be at the Orbisonia, PA Cemetery at the convenience of the family. The family suggests donations to a newly-created Valedictorian Award at St. Francis DeSales High School. Donations should be made payable to St. Francis DeSales High School in memory of Lisa K. Dumm. A prayer service will be held Thursday evening.
Condolences
Benjamin Hulac - Jun 23, 2014
Dear Nate,
I never had the pleasure of meeting your mother, but if the characteristics you possess are any indication–loyalty, friendship, insight, dedication, joy, strength, among countless other invaluable virtues–I know she was an amazing, wonderful woman. I am tremendously sorry for you and your family's loss, and I will be thinking of you and your family. Please let me know if there is anything I might be able to do.
With sincerity and love,
Ben
Donna and John rosner - Jun 22, 2014
Tim and family
Tim we are so sorry about Lisa. Our thoughts are with you. Please take care.
Donna and John
Carol Smith - Jun 20, 2014
I AM SO SORRY FOR YOUR LOSS.LISA WAS A SWEET GIRL.SHE WAS LOVED BY ALL WHO KNEW HER.MAY THE LORD BLESS YOU ALL,AND GIVE YOU PEACE.TELL JO ANN I AM SO SORRY.
Joe Meece - Jun 19, 2014
I am so sorry for your loss. My prayers go out to each and everyone. I knew Lisa from SHC and always thought she was a wonderful person. May the Lord's grace and peace be with you in your time of need.
Tammie Elder McClure - Jun 18, 2014
I wish to send my condolences to the family of Lisa. She and I were classmates at SHC. She was always a sweet person. I didn't know of her illness and was very shocked to read of her passing. As hard as it is just know that she won't be suffering now. May God be with you all.
Lynne Natcher - Jun 18, 2014
Sue,
I am so sorry to hear, knew she was struggling and was hoping for the best! I know it doesn't mean much now, but remember she is in a better place, it helps! I just lost my little sister in March and I lknow at times I feel she and her daughter was cheated but I wouldn't bring her back to suffer more! I am praying for you all, if you need anything …..please, don't hesitate. Love you!
Lynne
Joel, Mary, Aleah, Zach and Lilah - Jun 18, 2014
Tim, Caroline, Nathan, Ben, Aunt Jo, Susan, Pat and Family~
We're so saddened to hear of Lisa's passing and sending our sympathy. Please know that we are keeping you all in our daily thoughts and prayers during this most difficult time.
Love you all.
Mark and Lori Brooker - Jun 18, 2014
To Nate and your family,
May God be with you in this time of need. We all just wish we could have met this wonderful, strong and lovely woman. We are here if you need anything.
All our love
Mark and Lori Brooker family
Cindy Creek Etchison - Jun 18, 2014
Tim and family, there are no words that will heal the pain, or take away your emptiness. Know that this time on earth is temporary and that Lisa is healed and whole in heaven, waiting until she is re-units with her loved ones.
Mark and Kim Kimmel - Jun 18, 2014
Tim, Caroline, Nathan, Ben, Susan and Aunt Jo,
You all have been in our prayers through this journey. We are so sad with you and will continue to keep you in our prayers through the days ahead. May God's peace hold you and give you strength.
Love,
Mark and Kim
Uncle Chuck & Aunt Barbara & Jim - Jun 18, 2014
Dear Tim and Children, We are so sorry for your loss. Lisa was a wonderful person and we loved her dearly, we will miss her so very much,God be with her and keep her safe in heaven.
John and Barb Myers - Jun 18, 2014
Tim and Family,
We are so sorry to hear of your loss. Lisa was a wonderful person. I always remember her being friendly and upbeat. You will be in our thoughts and prayers during this difficult time.
With love,
John, Barb and girls
Dawn hite wolford - Jun 17, 2014
Thank you Lisa for your awesome friendship all through our Penn state collage days and beyond.your smile and laugh always brightened the room and my life.prayers for Tim Caroline Ben and Nate and Joanne and Susan.