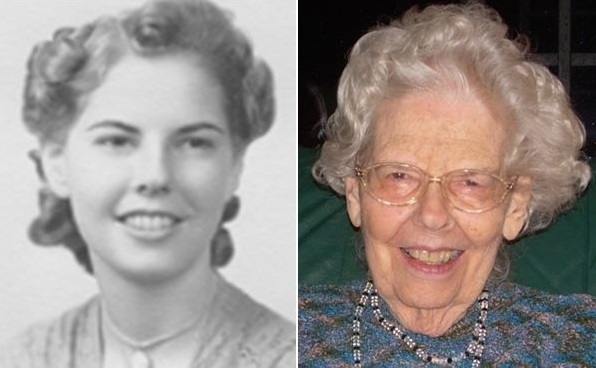 November 25, 1920 - March 22, 2017
Visitation
Saturday, March 25th from 7-9 p.m.
Service
Sunday, March 26th at 4:30 p.m.
FINNELL
Lillian (Lee) Ruth Bouslough Finnell, age 96, of Westerville, Ohio died of cardiac arrest due to complications from pneumonia on Wednesday, March 22, 2017, at St. Ann's Hospital. She retired from the Toledo-Lucas County Public Library System as the Manager and Head Librarian at the Reynolds Corner Branch. Subsequently, she worked part time at the Trading Times publications as a proof reader until the age of 84. In her earlier career, she taught American History in high school in Illinois, worked at Veteran's Testing Services (company originated GED and other academic tests), and the Toledo Willys-Overland/Kaisers Jeep factory. She pursued bettering her education and career and worked throughout her life while concurrently raising three daughters. She earned her Bachelor's degree from the University of Chicago and Master's degree in Library Science from the University of Michigan-Ann Arbor. Lee had a cheerful, optimistic disposition and was very encouraging of her family members' pursuits and aspirations. She enjoyed reading, listening to classical music, purchasing flower bouquets, playing the piano, and loved each of the family cats. She actively followed news and politics in the press and TV. Lee contributed to humanitarian and environmental organizations to help make the world a better place and also expressed her views on important national and social issues to Congressional and State representatives. She was preceded in death by her loving husband, Waldo M. Finnell. She is survived by her three daughters, Janine Finnell (her husband, Randolph Lintz) of Arlington, Virginia; Genevra "Jenny" (her husband, Joseph Stock); and Elicia Finnell (dedicated, diligent, and loving caregiver); granddaughter, Sabrina Lintz; three nieces and three nephews, three step-grandchildren and eight step-great grandchildren. She was the only child of Ruth Helen Lord Bouslough and Robert Warren Bouslough. Visitation will be held Saturday, March 25, from 7:00 to 9:00 p.m. at the MORELAND FUNERAL HOME, 55 East Schrock Road, Westerville followed by a funeral service on Sunday, March 26, at 4:30 PM. Contributions may be made to the Westerville Area Regional Ministry (WARM), Nature Conservancy, or the charity of your choice to help make this a better world for current and future generations.
Condolences
George Mackinaw - Mar 25, 2017
I am so sorry for your loss. I understand the grief in losing a loved one. My best wishes for all of you to find peace and comfort and remember all the good things shared in her time.