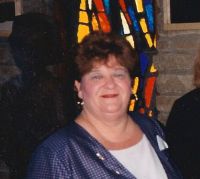 January 4, 2010
Visitation
Tuesday January 12, 2010 6-8p.m.
Service
Tuesday January 12, 2010 8p.m.
VIOLA
Katrina (Tina) Lynn Viola. Oct. 24, 1954 – Jan. 4, 2010. She was a beloved mother, grandmother, daughter, step-daughter, sister, Aunt T, and she has many family and friends. She will be greatly missed. Friends may call at the MORELAND FUNERAL HOME, 55 E. Schrock Road, Westerville, Tuesday,
January 12, 2010, 6-8 p.m. with a memorial service following at 8 p.m., Father
David E. Gwinner of St. Paul the Apostle Catholic Church, officiating.
Condolences
Coralene and George Dimovich - Jan 11, 2010
Please accept our condolences.