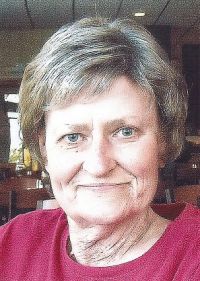 January 14, 2011
Visitation
Monday, January 17, 2011 2-4 and 6-8 p.m.
Service
Tuesday, January 18, 2011 at 10 a.m. Graveside 2 p.m.
KLOSS
Karen G. Kloss, age 62, of Westerville, passed away peacefully at her home on Janaury 14, 2011. She was preceded in death by her parents, Mazie R. and Ernest W. Kloss. Karen is survived by her brother, Jeffrey (Ruby) Kloss of Grafton, OH; niece Kristianne Kloss of Columbus; nephew, Jeffrey Kloss of Florence, SC. Born in Cleveland, Karen grew up in Westlake and graduated with honors from Mount Union College, Alliance, OH where she was a member of Delta Delta Delta Sorority. She also had a Masters degree from The Ohio State University. Karen began her career at the Ohio Association of Public School Employees (OASPE) before going to the School Employees Retirement System (SERS) where she retired as the Director of Member Services. Karen enjoyed sports but her real passion was history, especially the Civil War on which she became quite knowledgeable. Friends may call at the MORELAND FUNERAL HOME, 55 E. Schrock Road, Westerville, Monday 2-4 and 6-8 p.m. where service will be held Tuesday at 10 a.m., Chaplain Suzan McCrystal, officiating. Graveside service and interment at Lakewood Park Cemetery, 22025 Detroit Road, Rocky River, OH Tuesday at 2 p.m..
Condolences
hrpwdtnboe - Jan 21, 2011
Ert9ld ppyjmsjlxqvx, [url=http://ohpuzjzsbhbi.com/]ohpuzjzsbhbi[/url], [link=http://mpipcavsjisz.com/]mpipcavsjisz[/link], http://dgyuzvcoghwc.com/
Terri - Jan 17, 2011
There was a quiet friendliness offered to my family, and pets, always when needed, always without any fanfare or self promotion. There were good talks and good times among our neighborhood family. We have already toasted Karen with a smile, a story and a tear! God's grace and peace are yours, and may they touch your family and all who knew you. PEACE LOVE JOY!
Bill Simmons - Jan 17, 2011
Jill & I will keep you in our prayers during this most difficult time. While we realize its hard for the family, we know she is in a better place. We will again sit together, but for now I am sure she is smiling upon us all. Bill & Jill Simmons
Karen Michael - Jan 17, 2011
I am stunned and saddened by Karen's passing, (aka, KK, Kloss, Dreaded, DKF). I had not talked with her since we did dinner the night after her retirement in 2008 so did not know about her illness.
I first met Kloss (as her softball friends called her) at OAPSE where we worked together in the late '70s. Within a short time, I learned what a very bright and witty person she was who was devoted to her work and to our members and their well being. That passion for members and retirees continued at SERS. Although I only worked with Karen for two years, our friendship continued as we played softball together for many years (she pitched, I caught), and golfed in the summers at Hillcrest golf course in Johnstown. When Kloss gave the "dreaded" face to batters (as she dubbed it), they didn't stand a chance! We had the best pitcher in the league.
Our little knot of friends spent so many fun times at Karen's house near Otterbein – in the summer it was hours of badminton matches, and in the winter or inclement weather, it was marathon rounds of Tripoly, cards, board games and movie watching. Her beloved cat always nearby. We loved going to Kloss's. She refused to organize or call anyone – she always said "if you can get people together, just let me know when and I'll be ready." Those were great times. When I saw her in '08, she was looking forward to having the time to pursue her travels and talks and writings about the Civil War. She proudly showed me some of her published work. I am so sad that she had such a short time to fully enjoy that passion. I am so pleased by all of the comments here – she was loved by so many friends and co-workers who saw past that "crusty" exterior as many have described, to find the real Kloss – kind, smart, fun, and passionate about her work, her brother and his family, and her hobbies. She loved Jeff. You will be so missed, KK. My deepest sympathies to Jeff, Ruby and family.
Linda (aka Dweezel) - Jan 15, 2011
"There are things that we don't want to happen but have to accept, things we don't want to know but have to learn, and people we can't live without but have to let go." I'll miss you, DKF.
R M Volpi - Jan 14, 2011
Words cannot express my sadness. I know how much she meant to you, Jeff. I'm sure she was glad every day that you were with her. I will miss her, miss her, miss her.
Karen Zerby - Jan 14, 2011
I am so sorry Jeff. I know what a wonderful brother you have been to Klossie all her life. We shared many years together while growing up and I will always treasure those memories. I am so thankful I was able to see her at my 60th birthday party!
Jeri Dyer - Jan 14, 2011
My heart is heavy at the passing of my dear friend Karen. She has been an inspiration to many, worked tirelessly for her SERS members and retirees, and for me, has been a wonderful friend. I will never forget our Gettysburg trip and all the fun the Ya-Ya(s) have had over the years. My thoughts and prayers are with her brother, Jeffrey and his family. He took wonderful care of Karen during her illness and remained a devoted brother to her until the end. I love you and miss you already, KK!