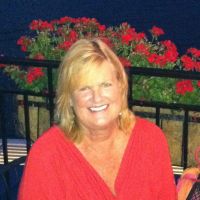 July 18, 1944 - July 21, 2014
Visitation
Friday, July 25th from 2-4 and 6-8 p.m., Moreland Funeral Home
Service
Saturday, July 26th at 11 A.M. Church of the Messiah United Methodist
MUSSELMAN
Judy Musselman, age 70, of Powell, OH. July 21, 2014. Retired school teacher, Westerville City Schools. Graduate of The Ohio State University. Loved to travel with her family and friends to experience the joys of life. Survived by her daughters, Jennifer (Pete) Mackin and Ashley (Chris) Wallace; grandchildren, Zachary and Alexa Mackin, and Brady Wallace; sisters, Jan (Dr. Barry) Brown and Jill (Paul) Anderson; brother, Jack (Steve Whitney) Enterline. Preceded in death by her parents, Dr. Jack and Rosemary Enterline. Friends may call at the MORELAND FUNERAL HOME, 55 E. Schrock Road, Westerville, Friday 2-4 and 6-8 p.m.. Service will be held at Church of the Messiah United Methodist, 51 N. State Street, Westerville, Saturday at 11 a.m., Rev. Jim Wilson, officiating.
Private family interment. In lieu of flowers, contributions may be made to Alzheimer's Assn. of Central Ohio or American Cancer Society.
Condolences
Judy (Clark) McGillivray - Jul 28, 2014
I was so shocked and sad to hear the news about Judy. Judy was my high school friend, and a college roommate during the six months we went to the University of Americas in Mexico City. We have kept in touch for all these years and I have many wonderful memories of our adventures together. We were thinking about where to schedule our next reunion with our other long time friends, Jane and Cam. Judy was so upbeat and full of enthusiasm about life with her wonderful family and her many travels. It is so hard to believe she left us so soon. My deepest condolences to the entire family.
Amy Anglin - Jul 25, 2014
I taught with Judy for decades. I am so so sorry to learn of Judy's passing.
She was such a good friend. She always offered me wise counsel and a good laugh. I will miss her terribly. My husband, Bob, took care of her HVAC equipment at the condo. He always scheduled extra time when he worked with Judy. I asked him why, and he said, "I have to leave room for story time ! She always had an adventure to tell me."
May God grant you peace and strength during this time and always.
Sincerely,
Amy Anglin
deb ubry - Jul 24, 2014
Dear Mackin Family,
I'm so sad to hear about your wonderful Grandma. Fouse certainly enjoyed her visits sharing about her penguin travels on her trips! Thinking of your family at this time!
Blessings to you!
Mrs. Ubry
Fouse Elementary
Kay Alexander McFall - Jul 23, 2014
Charlene Bordonaro just notified me of Judy's sudden death. She was a dear classmate of mine. So sorry for the family's loss. I send my prayers to all. And, a special condolence to Barry who was also a dear classmate. Thinking of all of Judy's family. With love, Kay McFall
julie sowecke - Jul 23, 2014
To Jen and Family, Ashley and Family, Jan, Jack, Jill and all, I am so so sad to know your mom, Grandma, sister and the kindest cousin ever is gone. When I think of Judy I think of her love of life, her great sense of humor, and all the kindness and love she showed me ever since I was a little girl. I think what a wonderful teacher and friend she was to so many individuals. I cannot begin to imagine your grief and sadness at this time. I know how sad I am. Please know how much I care and that both Tim and I are sending you our love and support at this time.
Cousin Pam Trentadue - Jul 23, 2014
Jill, Paul, Jack, Steve, Jan,Barry, Jen, Pete, Ashley, Chris, Zack, Alexa and Brady,
My heart is so heavy. Judy was my closest cousin and friend. She was the only person left who would remember events of my early childhood. Dom and I both looked forward to our annual visit with her, usually in Ft Lauderdale. I am thinking of her constantly and remembering events in her life.
She was the most positive person I knew. She loved serendipity moments and was full of sunshine and laughter. She really lived her life to the fullest. We'll miss her dearly.
Anne Honaker Bolen - Jul 23, 2014
Jan, Jill and Jack…this is such sad news that you lost your wonderful sister. I can still recall her laughter. From the short story of her life, I can garner her life was full of love. Please know my sympathies are with you and Judy's family.