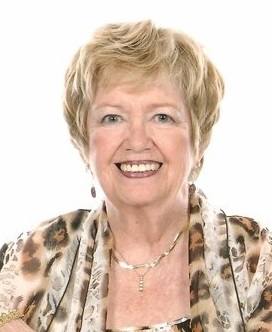 May 18, 1939 - December 8, 2017
Visitation
Monday, December 11th from 2-4 and 6-8 p.m. at Moreland Funeral Home
Service
Tuesday, December 12th at 10:30 a.m. at St. Paul Catholic Church
Burial
Resurrection Cemetery
Joyce M. O'Neill, age 78, of Westerville, Friday, December 8, 2017. Born in 1939 in Bronx, NY. Retired CPA at CoreSource. Member of St. Paul the Apostle Catholic Church since 1973. Treasurer of St. Vincent de Paul Society. Member of Columbus Celtic Dancers. Committee member for the Dublin Irish Festival. Preceeded in death by her husband, George F. O'Neill; parents, Frederick and Anne Wagner; brother, Donald Wagner. Survived by children, Tim (Mark) O'Neill of Columbus, Tom (Ginny) O'Neill of Westerville, Dan (Joy) O'Neill of Bellefonte, PA, Don (Pam) O'Neill of Midlothian, IL and Kathleen (Ralph) Esposito of North Bellmore, NY; grandchildren, Kelley, Eric, Brendan, Claire, Jeff, Ashley and Kevin O'Neill, Angelo and Lia Esposito, Brandon Fraley, Jennifer Karasek and Allison Van De Weerd, Olivia and Cameron Dunaway; great-grandchildren, Aya, Makenzie, Aiden and Austin; numerous nieces and nephews, sister, Joan O'Reilly and brother, Richard Wagner. Visitation will be held Monday, December 11 from 2-4 and 6-8 p.m. at MORELAND FUNERAL HOME, 55 East Schrock Road, Westerville. Funeral Mass will be held 10:30 a.m. Tuesday, December 12 at St. Paul the Apostle Catholic Church, 313 N. State Street, Westerville. Interment Resurrection Cemetery. In lieu of flowers, contributions may be made to the St. Vincent de Paul Society, in care of St. Paul Church at 313 N. State Street, Westerville.
Condolences
Tina Jackson - Dec 11, 2017
My sincere condolences to the O'Neill family. Joyce will be sorely missed but will live on in our memories. Much love, Tina, Kelley and Eric
Jim Murray - Dec 9, 2017
My thoughts and prayers go out to Joyce's family. Joyce and I met through my dear friend Joan O. Clarke. We instantly became genealogy buddies, trying to figure out each other's family history. Joyce and I would call each other every once and a while, also meeting at the Municpal Archives whenever she visited New York and yes, going out to lunch was a "must". I will miss her dearly, her laughter, her smile, her chatting about the info she uncovered in her family tree, trying to help her find family. We lost a dear friend and family member but gained an Angel, she now watches over us. Rest in peace Joyce.
Lois Barry Carroll - Dec 9, 2017
My sympathy to the children, grandchildren and great grandchildren of Joyce O'Neill. We were cousins and visited with each other via digital means. We found each other on Ancestry.com. Joyce was a very generous and loving person. She loved her family, her church, Irish dancing and her home. I will miss her dearly. God Bless her and God bless your wonderful family.