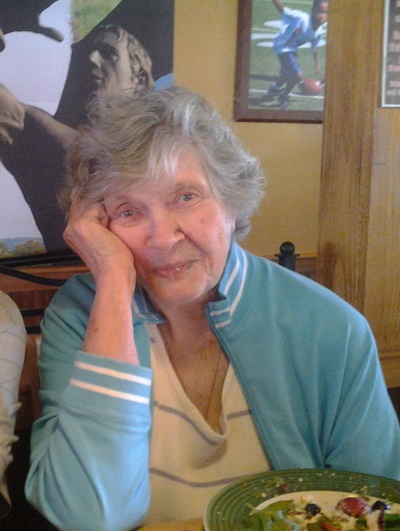 September 26, 1927 - January 10, 2015
Visitation
Tuesday, January 13th from 2-4 and 6-8 p.m.
Service
Wednesday, January 14th at 11:00 a.m. St. Paul Lutheran Church
GORDON
Joyce Adams (Kelly) Gordon was born on 9/26/1927 to Lawrence L. Kelly and Ethel Kelly in Dayton, Ohio. Joyce attended Otterbein College where she met her husband, Douglas Gordon. She finished her degree many years later at Ohio State University. Joyce taught intellectually challenged children at the Starlight School in Newark teaching the elementary grades. She then was a case manager for the State of Ohio Department of MRDD from where she retired after many years. Those who preceded her in death were her parents, her husband and her sister, Janet Kelly. Those who survived include her eldest son, Kelly (Laura); her only daughter, Ann (Bill) Walston who lovingly cared for her mother and sons, Christopher (Christine) and Larry (Peggy). Also surviving are 11 grandchildren, one of whom she helped raise, Adam Gordon and 5 great-granddaughters. Joyce was a person of strong faith and love of church. She also had an enduring love of family. Her daughter, Ann was not only her caretaker but was her best friend. She enjoyed many great times of dining and playing games with her many friends. Joyce had a love of art that could not be surpassed-her art collection takes up every inch of the walls in her home. She loved jazz and theatre-becoming a charter member of Welsh Hills Players Theatre (Licking County Players). While Joyce was known for stating her opinion on many topics; she always listened when others voiced their opinion and respected them for doing so. Joyce would always be an arm to lean on and friends were always willing and anxious to help her when needed. Joyce enjoyed life to the fullest up to the time of her passing on 1/10/2015. Viewing will be held on Tuesday, January 13th from 2-4 and 6-8 p.m. at the MORELAND FUNERAL HOME, 55 East Schrock Road, Westerville. Funeral service will be held Wednesday, January 14th at 11:00 a.m. at St. Paul's Lutheran Church, 4648 East Walnut Street, Westerville, OH 43081. Flowers are appreciated, however, if memorial contributions are desired you may give to St. Paul's Lutheran Church at the above address.