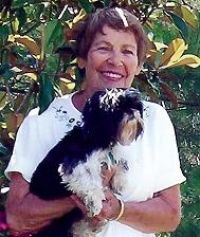 December 4, 2009
Visitation
Wednesday from 6-8 p.m.
Service
Thursday, December 17th at 10:30 a.m. St. Paul Catholic Church
Josette Davis of Pawleys Island, South Carolina died Friday December 4, 2009. with her daughter by her side. She was 84. She was born April 6, 1925 in Paris France to the late Maurice and Marcelle Barbier. Josette met her husband, Al Davis, during WW II in Paris. They were married in 1945; she then came to this country and they settled in Marion, Ohio. Later, the family moved to Columbus where Josette workted for Highlights for Children as customer service supervisor. She retired after 38 years from Highlights. She enjoyed the beach, traveling, their Nags Head Home and especially entertaining. She was a tremendouis hostess along with her husband. She will always be remembered for their parties and gourmet dinners and especially her french carrot salad. She was predeceased by her husband of 55 years and her faithful dog companions, KeeKee and Bijou. Josette isd sdurvived by her daughter and son-in-law, Monique and David Philips, two step-grandchildren, Heather and Rich Carpenter and Jason Philips; three step- great grandchildren, Tyler, Jackson adn Grayson Carpenter. Also surviving are her two cousins and their wives, Gilbert and Marcelle Coutellier of France and Alan and Martine Coutellier of Gaudalupe and their families. She made friends easily and was loved by all those she met. She attended St. Peter's Lutheran Church and Precious Blood Catholic Church; she was also a member of St. Paul's Catholic Church in Westerville, Ohio; member of Red Hat Society-Pawley's Place, Precious Blood Womens Club and member of Grand Strand French Society. She will be greatly missed by her family and her friends. Friends may call at the MORELAND FUNERAL HOME 55 East Schrock Road Westerville, Wednesday 6-8 p.m. Mass of Christian Burial will be held 10:30 a.m. Thursday December 17, 2009 at St. Paul Catholic Church 313 North State Street Westerville, Ohio. Rev. Fr. David E.Gwinner, Celebrant. Interment Otterbein Cemetery.
In lieu of flowers, please make donations to St. Frances Animal Center, 125 North Ridge Street, Georgetown, SC 29440.