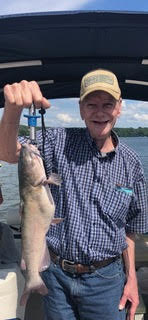 August 14, 1951 - September 2, 2023
John Thomas Watkinson passed away peacefully on September 2, 2023.

John was born on August 14, 1951 in Columbus , Ohio to the late George and Annabelle Watkinson . He was the third child of three children .

In addition to his parents John is proceeded in death by his brother , Gary Watkinson .

John is survived by his son, Shane (Gisela ) Watkinson; his daughter, Amanda Watkinson ; his grandchildren, Marley Mitchell, Manny Norwood, Chloe Watkinson and Addison Watkinson; his sister, Linda (Jim) Hollis; and other relatives and friends.

John was an Army National Guard Veteran and proud to have served. He was a mason by trade, specializing in brick, block , stone and concrete. John greatly enjoyed fishing throughout his life. He was an avid sports fan and especially enjoyed watching baseball and football. He will truly be missed by those that loved him .
Condolences
Debbie Scanlan - Sep 15, 2023
John Boy was a Good Friend and considered him my Brother he helped me and Owen get threw a rough time in our lives he will be deeply missed RIP my Friend Love you To Shane and Family hugs and prayers❤️❤️❤️❤️❤️❤️❤️
Jamie amerine - Sep 7, 2023
John was a wonderful man and I'm proud to have known him . He will be greatly missed by many near and far. He was apart of my family for many years and became a life long friend .