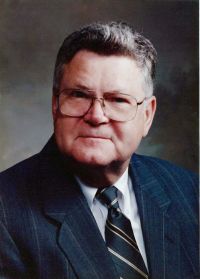 October 26, 1928 - January 12, 2014
Visitation
Friday, January 24, 2014 from 5-8 p.m., Moreland Funeral Home
Service
Saturday, January 25, 2014 10 A.M. St. Elizabeth's Catholic Church
NOONE
John Patrick Noone, born October 26, 1928 in Philadelphia, Pennsylvania to parents, Michael J. Noone and Mary (née McDonald) Noone, John Patrick Noone passed away on January 12, 2014 in Woodbridge, Virginia. He was preceded in death by two wives, Olive D. Noone and Marilyn A. Noone, and a dear female friend, Ms. June Arbaugh. Also predeceasing him were his beloved brother, Thomas J. Noone, and affectionate sister, Ms. Eileen P. Noone. Surviving him are his children, Kevin P.(Sandra) and and Timothy B.(Colleen) Noone; his stepchildren, Michael Vernon and Patti (Jon) Vannice; his grandsons: Justin M.(Cassandra), Joshua M.(Audra), Sean C., and Shiloh B. Noone; his grandaughter Michele M. (Walt) Treaster; and his great-grandchildren, Heather and Colin Treaster, and Madison G., MaKenzie F. Noone, and A.J. Vannice. Also surviving him are his sister-in-law, Mary Jane Noone, and her eight children: Michael, James, Katie, Patty, Thomas, Ellen, Kevin, and Elizabeth.
Educated initially in the parochial schools of Philadelphia, John graduated from West Catholic High School and Villanova University's School of Engineering, earning his B.S. in Engineering at the latter institution in 1950. Working immediately after graduation for Philco Corporation, John was inducted into the Army and served two years conducting research for the Chemical Corps at Edgewood Arsenal in Edgewood, Maryland. Thereafter, he worked for ten years for Socony Mobil Corporation before embarking on a career as a sales engineer for Tuscarora Plastics, a leading firm in the then new field of styrofoam and plastics packaging; he worked for Tuscarora Plastics for thirty years, from 1965 until his retirement in 1995.
Intellectually inquisitive, he loved reading histories and biographies, arguing politics, and criticizing public figures of practically any stripe. A lifelong Catholic, he was, while living in Western Pennsylvania, a member of Saints Peter and Paul Church in Beaver, Pennsylvania; over the last thirty years, he has been a member of St. Elizabeth Church, Columbus, Ohio. Friends may call at the MORELAND FUNERAL HOME, 55 E. Schrock Road, Westerville, OH Friday 5-8 p.m. Mass of Christian Burial will be held on Saturday, January 25, 2014 at 10 a.m. at St. Elizabeth Church, 6077 Sharon Woods Blvd., Columbus, OH 43229 with visitation from 9-10 a.m., Rev. Fr. Charles E. Cotton, Celebrant. Interment will be at Resurrection Cemetery immediately following the Mass.
Condolences
aloysius kustes - Jan 23, 2014
Dear Noone Family. I was just recently informed of your fathers passing. My deepest sympathies. Your father was my mentor at Tuscarora for many years, and after his retirement he used to meet us "Derby Week" in Louisville for an annual Tusky re-union luncheon. Those were fabulous times. Suffice to say your father was one of the most wonderful people I had the privilege to know and learn under. God Bless John and your families..
Best wishes
Al Kustes
Mary Margaret Storar - Jan 23, 2014
Dear John Noone Family, Working with John at Tuscarora was such a wonderful experience. We shared many conversations of life, love and the Catholic faith. When I retired he would call and check up on me and my family. He is surely making conversation with the angels and keeping a place for us in heaven. RIP my friend.
David Powell - Jan 23, 2014
John a was a good friend to us all and kept us on our toes.
He also made some money off some of us.
John and I (I assume with others) would talk about every Saturday morning about what was going on. Hello this John Noone 614-895-2154,
in the company and with the family. Sadly over the last few years it went down to no communication
and probably more my fault than his.
He was interesting to talk too and very knowledgeable, more than I.
When we would drive through Columbus, Ohio to Pa he always wanted us to stop and have lunch together.
Of course he would say that I never used my money for lunch I was too tight, but I paid more than not.
For Tuscarora Plastics:
He kept up with all that was happening in his sales territory and else where in the company.
He was determined to make it right to every customer.
He would go where needed anytime day or night.
He knew a lot of people in and out of the company that dealt with Tuscarora.
If you were right he would go to the wall for you.
He was a pleasure to work with.
He leaves a lot of friends behind but we shall meet again.
Christina Starcher - Jan 20, 2014
Dear Noone Family,
I worked with John at Tuscarora for many years. As you can imagine, we had many heated discussions on politics and religion – and I loved everyone of them! I'm sure if he's not enjoying Heaven right now, he's debating his way out of Purgatory! I hadn't seen him since we met halfway in Oglebay several years ago, but kept in touch with lengthy phone calls. Truly a wonderful man, my deepest sympathies to your family. I'm privileged to have known him!
Chris Starcher & family