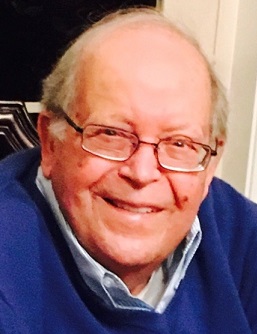 March 3, 1937 - January 20, 2018
Visitation
Sunday, January 28th from 3-6 p.m. at Moreland Funeral Home
Service
Monday, January 29th at 10:30 a.m. at St. Paul Catholic Church
Burial
Northlawn Memory Gardens
John Anthony Define, age 80, of Westerville, passed away peacefully at home January 20, 2018 after a long fight with pulmonary fibrosis. Formerly employed by Panasonic, John had been retired for 15 years and was active in Knights of Columbus Lodge 5776 in Westerville. Born March 3, 1937 in Cleveland, Ohio to Angelo and Agnes Define who preceded him in death. John was married in 1959 to his beloved wife Carol Ann with whom he shared 50 years of marriage. Carol has been waiting in Heaven for him since 2009. John was thoughtful and caring and had a gentle nature as both father and friend. He took great pleasure in his family and adored his grandchildren — who lovingly nicknamed him "Bup." John graduated from Ohio University in 1959 and served in the Army Reserves for five years. He was a devoted parishioner of St. Paul Catholic Church and enjoyed reading, sports, and card club with his old neighborhood friends. His sweet disposition was noted by all who knew him and he never backed away from helping someone in need. He was a devoted husband, father, grandfather, and brother-in-law and will be sadly missed by all. Survived by children, Jeffrey Michael (Tracey) Define, Lisa Marie (John) Bodell, and Gregory Arthur (Tonya) Define; grandchildren, Rachel and Corey Scott, Tyler and Katie Define and Olivia and Christian Define. Friends may call at THE MORELAND FUNERAL HOME, 55 E. Schrock Road, Westerville, Sunday 3-6 p.m. Funeral Mass will be held Monday 10:30 a.m. at St. Paul Catholic Church, 313 N. State Street, Westerville. Father Charles Klinger officiating. Interment Northlawn Memorial Gardens. In lieu of flowers, donations may be made to The St. Vincent DePaul Society.
Condolences
Julie and Ed Gallagher - Jan 28, 2018
Lisa ——big hugs to you and your family. We wish we could be with you this weekend. Julie & Ed
Bernadette & Pat O'Reilly - Jan 25, 2018
Lisa,
Our deepest condolences to you upon the passing of your father.
Bernadette & Pat O'Reilly
Herb Guyer-Sharfenaker USMC - Jan 25, 2018
John A. Define United States Army Reserve.
Ohio University 1959 Alumni.
Retired 2003 from Panasonic.
Member K of C #5776.
God Bless and Thank YOU, John for your service …RIP… And Semper Fi…. Soldier.
Rusty and Mary Ann Schell - Jan 24, 2018
We shared many fun times with John and he will be missed but he is now with his love Carol. He loved her so much.
I always loved John's funny stories and sense of humor.
He truly was a family man and talked non stop about the grandkids and children how very proud he was of them.
He is looking down on all his family and friends with Carol by his side.
He is at Peace.