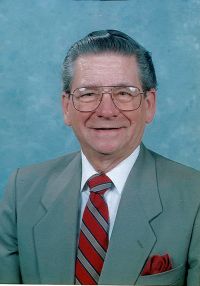 December 17, 1933 - November 6, 2014
Service
Saturday, November 15, 2014 1 p.m., Grace Brethren Church
BARNHARD
John L. Barnhard, Jr., age 80, of Columbus, OH, went home to be with our Lord on November 6, 2014. John graduated from Harlem Township High School, Delaware County in 1951. Retired Vice President from Huntington National Bank where he served for 42 1/2 years. Member of Grace Brethren Church and treasurer for H.E.L.P. Cancer Support Group. Past President, Columbus Chapter, American Institute of Banking and long time President of his high school alumni and reunion. After retirement John enjoyed working on his and his wife's genealogy and the study of the Civil War and viewing the battlegrounds. Preceded in death by his wife of almost 51 years, L. Jean Wilcox Barnhard, parents, J. Leavett and Marsena Mae Shoaf Barnhard, Sr., sister-in-law, Darlene "Tootie" Mowery, brother-in-law, Calvin "Bud" Wilcox. Survived by sister-in-law, Nola Wilcox; brother-in-law, William Mowery; nieces, Vicki (Rick) Dunlavy, Terri (Jerry) Ropp, Patricia (Erik) Alexander, Christina (Robert) Friday-Domke and Carol (Ralph) Young; nephews, Michael (Michelle) Wilcox, James (Sue) Jackson and Mark Jackson; several great-nieces and great-nephews; many loving friends and church friends. Graveside service and interment will be held at 11 a.m. Saturday, November 15, 2014 at Fancher Cemetery followed by a Celebration of Life service at Grace Brethren Church, 8225 Worthington-Galena Road, Westerville, OH, Saturday, November 15, 2014 at 1 p.m., Pastor Tim Waggoner, officiating. In lieu of flowers, donations may be made to Grace Brethren Church, 8225 Worthington-Galena Road, Westerville, OH 43081. Arrangements by MORELAND FUNERAL HOME, Westerville, OH.
Condolences
Grant Alvord - Nov 14, 2014
Rest in peace my friend. We have lost a kind
and gentle man and so has the world. The
Ken and Don and Grant and John team at
the bank is down to two. God Bless you.
Ivan Garrabrant - Nov 14, 2014
John was a neighbor, friend and co-worker. John invited me work at HNB more than fifty years ago and I am still enjoying working in the financial industry. Many happy memories of working with John.
Ivan Garrabrant
Fred Hulkenberg - Nov 14, 2014
Worked with John many years. Great Guy. He told me about his Dr. for open heart surgery and I had him for mine. I knew if was good for John it had to be good for me.
Will be missed.
Fred
Stuart Parsons - Nov 11, 2014
John and I share the same Barnhard great-grandparents, and I have known John all my life. He was indeed a fine gentleman whose friendship and kinship I highly valued. He and Jean had enviable values and qualities, and I am proud to be his cousin.
margene Keaton - Nov 10, 2014
This is so sad. I will miss my cousin so much. He was a good moral man and I will miss him a lot. Thank you Vickie and Terri for all you did for him. God must have needed an Angel so He called Sweet John home. God Bless you all.
Beth Kowalski - Nov 10, 2014
John was a faithful member of our Grief Group and came every year to my Red, White & Boom Party. He was always the first to arrive and helped put up the decorations. Such a lovely, sweet man! He will be deeply missed.
Lee Bailey - Nov 10, 2014
I met John 11 years ago at a Grief Support meeting at Kobacker House, shortly after we both lost our wives. A number of us who met there at Kobacker House hospice started gathering after the meetings at a nearby restaurant. We still gather there almost every Wednesday night. John is already missed.
Ken Kabelka - Nov 10, 2014
John was a truly respectful and trustworthy person He leaves a straight path for all of us to follow.
Patt Snyder - Nov 9, 2014
I, worked with John at HNB too. He was always a good friend & great co-worker. He was a person that everyone "looked up to." John left a great legacy to all that came in contact with him.
He will be missed. Patt Snyder
Charles Pace - Nov 9, 2014
Tragic loss for a great friend of 30 years and co-worker at the Huntington Bank. Monday Breakfast group every week.
Ginny Robinson - Nov 9, 2014
Mr. Barnhard was a Great boss and he will be missed. He would come around the Op Center every morning and say Goodmorning and call us by our 1st names. So sorry for your Loss.
Paul & Karen Piper - Nov 8, 2014
Paul knew John since Harlem High School. We went to the reunions and Paul went to the Men's Breakfast. John was very outstanding person a good friend. We will miss him.
Loraine Phillips - Nov 8, 2014
John Barnhard was a great boss and mentor throughout my career. He was a good man. I was proud to know him.
Dick & Jean Patton - Nov 8, 2014
Our prayers go out to the family. He missed Jean a lot, but continued on with life and enjoy each day of his. We will think of him often. Thanks for the memories.
Christine (Binns) Brigode - Nov 8, 2014
John was my first boss when I started at the Huntington. I feel his guidance is what helped me advance at the Huntington. He was a great person to know. I am sorry for your loss.
Chris
Georgia London - Nov 8, 2014
I will miss my friend. We worked together for 25 years at the Huntington Bank and kept in contact over the years.
Vicki Tieche - Nov 8, 2014
John will be greatly missed. He was such an important person for those of us from "old" Harlem Township. There's no way he can ever be replaced – one of a kind, as was his father. Vicki (Dell) Tieche and Don Tieche