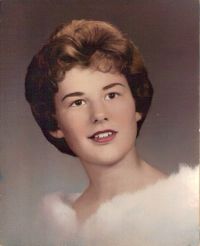 July 12, 1944 - September 24, 2012
Visitation
Saturday, September 29th from 12 noon to 3 p.m.
WRIGHT
Joanne Marie Wright (Santa), 68, of Westerville, Ohio, passed away at Emeritus at Outlook Manor on September 24, 2012 after a long and courageous battle with Alzheimer's disease. She was born on July 12, 1944 in Cleveland, OH. A loving wife to the late Gerry E. Wright, they enjoyed their retirement years by traveling frequently to Florida, Washington State, Michigan, and Hawaii. Joanne was a loving mother who enjoyed gardening, crossword puzzles, reading novels, bowling, cooking, ceramics, teaching High School English, and going to the movies. Joanne will be deeply missed by those whose lives she touched. Preceded by her father, Joseph Santa. Survived by her mother, Anna Santa (Cerny); sister, Marilyn Aqulino (Santa); nieces, Gina and Joy; and two loving sons, Ryan and David Gibson. The family will receive friends on Saturday September 29th from 12 – 3 pm at the MORELAND FUNERAL HOME, 55 East Schrock Road, Westerville. The family suggests that all contributions in Joanne's name be made to The Alzheimer's Association at http://www.alz.org.
Condolences
Johnny, Kathy Folk - Sep 29, 2012
We both feel a great sadness for her passing but are so happy to have known her.
Greg & Kay Ledbetter - Sep 27, 2012
We are carrying you in our thoughts and hearts during this time of your loss. Joanne was a classy lady and we thoroughly enjoyed knowing her. Please take comfort in the fact that she was proud of you.