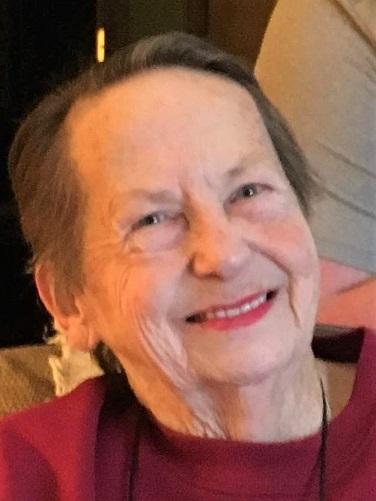 February 15, 1942 - November 19, 2022
Visitation
Wednesday, November 23rd from 6-8 p.m. at Moreland Funeral Home
Service
Friday, November 25th 1 p.m. at Our Mother of Sorrows Chapel
Burial
St. Joseph Cemetery
Jane Carroll Rice (née Maher), age 80 of Westerville, passed away November 19, 2022, with family and friends all around. Jane is formerly of Sunbury, Ohio, where she and her husband of 56 years, Edmund L. "Ed" Rice, who was the love of her life, built a home together and raised their family on a small farm. Jane loved gardening (especially herbs) and to collect Santa Clauses. If you were lucky, you received one of her hand-knitted afghans as a gift. She made the best blackberry jelly ever and was famous for her pumpkin pies. Jane is preceded in death by Ed and her sister, Patricia (Patsy) Foltz. She is survived by two daughters, Pamula Lillie and Carol Rice (David Fraser), and her son, Joseph Rice and his wife Michelle, who Jane loved as a daughter. Jane also is survived by her grandchildren, Colleen (Joey) Runyan, Patrick (Liz) Lillie and Andrew Rice; great-granddaughters, Olivia and Nora Runyan; niece and nephews Katie Foltz, Scott Foltz and Louis Maher; her brother, Edward Maher, and brother-in-law, Bill Foltz. Everyone who knew Jane enjoyed her warm, engaging manner and fun-loving spirit. She will be missed by her family, who loved her very much, but she is now able to join Ed, who surely is happy to have his "Honey" back with him in Heaven. Visiting hours will be Wednesday, November 23, 2022 from 6-8 p.m. at MORELAND FUNERAL HOME, 55 E. Schrock Road, Westerville. Mass of Christian Burial Friday 1 p.m. at Our Mother of Sorrows Chapel, St. Joseph Cemetery in Lockbourne, Ohio. In lieu of flowers, friends may contribute to the American Lung Association or the charity of their choice in Jane's memory.
Condolences
Jennie Kavage - Nov 30, 2022
Jane, Ed and their children were the first people we met when we moved to our new home nearly 50 years ago. They were lovely neighbors. Jane had a wonderful spirit and always a twinkle in her eye. I miss her being just down the road.
Karen Goodwin - Nov 22, 2022
I will always remember Jane laughing and smiling. She left this world a better place, and I am happy to have known her.