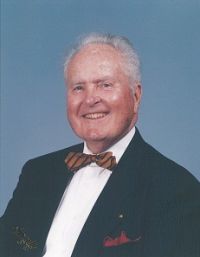 September 24, 1913 - May 3, 2011
Visitation
Noon til 2:00 p.m. Saturday May 7, 2011
Service
2:00 p.m. Saturday May 7, 2011
PICKENS
James D. Pickens, 97, of Westerville, passed away Tuesday May 3, 2011. Retired from the State of Ohio with 50 years service as a Professional Engineer at The Ohio State University and O.D.O.T. Central Office. Member or
officier of various organizations including the Amalthea Historical Society, Ohio Historical Society, Conestoga, Innis Woods Garden Society, Franklin County Professional Engineers, Opera of Columbus, The Impresarios, Sons and Daughters of Pioneer Riversmen, Franklin County O.S.U. Alumni Association, The Ohio State Alumni Association, National Model Railroad Association, Ohio Society of Professional Engineers and Surveyors. Supporter of the arts in Columbus including Columbus Symphony Orchrestra, The Jazz Arts Group and Broadway Columbus. Supporter of numerous charities. James enjoyed tennis, horseshoes, trains and was an avid OSU football and basketball fan. Preceded in death by parents, wife of 52 years, Claudia D. Pickens. Survived by daughter Lisa Pickens (Jaime) Silva of Westerville. sister, Mrs. John R. Lee of Racine, OH, numerous nieces and nephews. Friends may call at the MORELAND FUNERAL HOME 55 East Schrock Road Westerville, Saturday May 7, 2011 from noon til 2 p.m. where service will be held at 2:00 p.m. Pastor Ed Deming officiating. Private interment will be held at a later date.
Daddy, I love you and we will be together again soon forever.
Dispatch Thursday and Friday
May 5th & 6th
Condolences
Dorie - May 26, 2011
Thanks alot – your anwesr solved all my problems after several days struggling