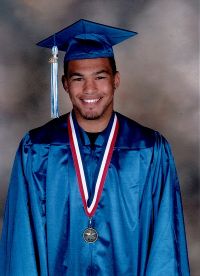 March 22, 1994 - October 11, 2014
Visitation
Sunday, October 19, 2014 from 2-4 and 6-8 p.m., Moreland Funeral Home
Service
Monday, October 20, 2014 11 a.m.. Beechwold Christian Church
ROBINSON
Jalen M. Robinson, 20, passed away unexpectedly, Saturday, October 11, 2014. Jalen was born in Columbus, OH on March 22, 1994, to Shannon Robinson and Michael Ziegler and is preceded in death by his sister, Hailey Ziegler and great-grandparents Charles and Pauline Winters. Survivors include his parents; siblings Michael, Breanna, Alyssa, Kaylyn, Cameron, Alexis and Aiden Ziegler; grandparents, Charlene Wade, Marlin and Sandy Ziegler; aunt Lisa (Zach) Hamm; cousin Zachary Hamm; coaches and mentors Caska (Coach T) Thompson and Nicholas See; close family friend Valerie Scott; and many other family and friends. Jalen graduated from Mifflin High School in 2013 and currently was attending Tiffin University where he was studying Athletic Management, was a member of the wrestling team, and was a residential advisor. While attending Mifflin High School he was a 4 year varsity letterman in wrestling and in 2013 was the City Champion, Sectional Champion, and placed 2nd in Districts and 4th in State. Also during his senior year, he was First Team All-City in football and was a talented leader. He enjoyed being big brother to his seven siblings. Jalen brought joy to those around him, is loved and will be dearly missed. Family will receive friends on Sunday, October 19, 2014, 2-4 PM and 6-8 PM at MORELAND FUNERAL HOME, 55 East Schrock Road, Westerville, OH 43081. Funeral Services will be held on Monday, October 20, 2014, 11:00 AM at Beechwold Christian Church, 280 Morse Road, Columbus, OH 43214. A Graveside Service will be held at St. Joseph Cemetery, 6440 South High Street, Lockbourne, OH 43137 immediately following the Funeral Service. In lieu of flowers, memorial contributions may be made payable to the Jalen Robinson Memorial Fund at http://www.gofundme.com/fsjzzs. Messages of condolences may be left at www.morelandfuneralhome.com.
Condolences
Aries - Oct 24, 2014
I am so sorry for the loss of dear Jalen. During this most difficult time, please know that many hearts go out to you and that you are invited by our Creator, Jehovah God, to "throw all your anxiety on him, because he cares for you." (1 Peter 5:7; Psalm 83:18) "Jehovah is close the brokenhearted; he saves those who crushed in spirit." (Psalm 34:18) Take advantage of this invitation as you await the day "all" in the grave, including Jalen, come out. (John 5:28, 29; 11:11, 43) And then, "the last enemy, death, is to be brought to nothing." (1 Corinthians 15:26) Take care dear ones and please accept my sincerest condolences. (www.jw.org)
Bob and Chris Sulick - Oct 22, 2014
Shannon, Charlene, Bev and Family,
You are in our thoughts and prayers during this difficult time.
Preanna Sanders - Oct 20, 2014
Rest peacefully Jalen you were so full of life and the happiest person I know. Sad that we had to say goodbye so soon. I'll miss your jokes and just being around you. Your time here was a great one he accomplished a lot and influenced a lot people. Love you jalen gone but NEVER forgotten.
Jada pritchett - Oct 19, 2014
To family and friends jalen was the funniest guy I know and I hate that we lost such an amazing man! I am so sorry we had to say goodbye to our brother, friend, son he will truely be missed! I love you so much! My big beany bear I love you jalen!
Suzanne Duffy - Oct 17, 2014
I am so sorry for your loss.
Char- I know that being in Arizona makes it hard for me to help you, but if there is anything I can do from here, please let me know. My heart aches for you and your family. I will pray for you and hope that you all will somehow find peace and comfort with one another. I am so sorry for your loss. Please know that there are so many of us that care.
Elizabeth - Oct 17, 2014
Im sorry for your lost i meet him at mifflin and he was nice and sweet. He always smile and laugh with his friends when he was around them.. it sad that yout gone but never forgot im heart goes out to his family and we all wish you was still here. Sorry that i cant make it to the funeral but your never forgot rip jalen
Chris Wade - Oct 17, 2014
So sorry for you loss. I can't begin to understand the grief you must feel. May he rest in piece.