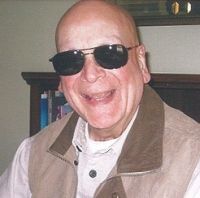 November 27, 1933 - January 20, 2013
Visitation
Thursday, January 24, 2013 from 6-8 p.m.
Service
Friday, January 25, 2013 at 1 p.m.
PAPIN
Jack Boynton Papin, born November 27, 1933 or thereabouts in St. Louis, MO, passed away at 7:08 p.m. January 20, 2013 one month after a severe heart attack. He is preceded in death by his parents, Jack Henry and Katherine Elizabeth Papin and brother, Joseph Wood Papin. Survived by his wife of 50 years, Mary Darlene (Sprunger) Papin; son, Jack Denis Papin; daughter, Denise (Donald) Wartenberg; grandchildren, Daniel Alexander and Sara Rose Wartenberg; sister, Kathryn Ann Moss; brother, Donald Papin; sisters-in-law, Jane (Scatterday) Papin, Janice Stetler, Louise (Robert) Bobst, Delores (Kenneth) Bayes; numerous nieces and nephews. Jack graduated from Westerville High School and The Ohio State University where he was active in Pershing Rifles and The Makio yearbook. He financed his own education. After graduation Jack worked at North American Aviation and later for Columbus City Administration. He was an insurance agent and managed stock portfolios. With funding from Sertoma, he established a drug rehabilitation center in Columbus for which he was given the Sertoma "Man of the Year" award. He was active on the Board of Directors for the March of Dimes and served on the Franklin County Speech and Hearing Board. He was also active in several organizations dedicated to Second Amendment rights and involved in many philanthropic and charitable organizations. Friends may call at the MORELAND FUNERAL HOME, 55 E. Schrock Road, Westerville, Thursday 6-8 p.m. where the service will be held Friday at 1 p.m.. Interment at Forest Lawn Memorial Gardens. In lieu of flowers, donations for the Second Amendment Foundation are suggested, James Madison Bldg., 12500 N.E. Tenth Plaza, Bellevue, WA 98005.
Condolences
Tanya Kennedy - Jan 23, 2013
Mary, Jack Denis, Denise, Donald, and family,
Our hearts are heavy for you during this sorrowful time. We're deeply saddened at Jack's passing and we just feel a loss of words. You are in our thoughts and prayers, Giles, Tanya, and Hannah Kennedy
Jerry Vance - Jan 22, 2013
Jack is probably sharing his jokes with god and has him rolling in the clouds. Jack was a great man and a great friend to the Franklin County OSU Alumni Club. He loved the Buckeyes and loved his guns. He supported our clubs scholarship each year and loved our annual target shoot. He will be missed as he touched many.