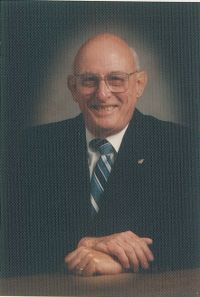 August 23, 1925 - November 1, 2012
Visitation
Friday, November 9th from 6-8 p.m.
Service
Saturday, November 10th St. Joseph Chapel
HUMLER
John G. (Jack) Humler, age 87, passed away Thursday, November 1, 2012. He was preceded in death by his wife of 31 years, Tamina Rose (Salome); parents, John G. and Mamie B. Humler and brother, C. Richard Humler. Survived by his nephew, John (Pam) R. Humler; great-great-nephew, Jordan Humler; nieces, Susan (Pat) Smith of Salisbury, MD and Brenda (Cliff) Moore of Delmar, DE; sister-in-law, Joanne Humler of Salisbury, MD; special friends, Ruth Johnson of Westerville, OH, Macy (Greg) Layer of Lewis Center, OH and their children Keaton and Kelsy Layer. Mr. Humler was employed for 32 years with the Railway Express Agency. He was manager of the Columbus terminal when the company went out of business in 1975. Retired from Signal Delivery Service in 1992 after 15 years in Dispatch Management when the company closed its Columbus terminal. A member of the American Legion Young Blood Post 171 and served in the military during World War II. Member of Columbus Baptist Temple. Friends may call Friday, November 9th from 6-8 p.m. at the MORELAND FUNERAL HOME 55 East Schrock Road, Westerville. Interment will be held Saturday, November 10th at 11:00 a.m. at St. Joseph Cemetery Chapel 6440 S. High Street, Lockbourne, OH. Chaplain Glenn Carlton officiating. In lieu of flowers, the family has requested donations be made in Jack's memory to Willow Brook Christian Home Assisted Living 55 Lazelle Rd., Columbus, OH 43235.
Condolences
Patty and Terry - Nov 10, 2012
Sorry for your loss. May your memories remain fresh.
Pam and Paul Hurley - Nov 5, 2012
Our deepest sympathies go out to family and friends at the loss of Uncle Jack. May he rest in eternal peace.
Love, Pam and Paul