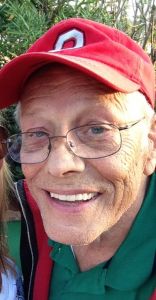 June 28, 1937 - May 3, 2014
Visitation
Tuesday 6-8 p.m., Wednesday 2-3 p.m., Moreland Funeral Home
Service
Wednesday, May 7, 2014 3 p.m., Moreland Funeral Home
DYKE
Howard Mason Dyke, age 76, of Westerville, OH. Saturday, May 3, 2014 at home. Retired Senior Design Engineer at Van De Graff Laboratory at O.S.U.. Member of Grace Lutheran Church. Survived by his wife of 37 years, Bonnie; children, Brent, Dawne, Bradford, Zachery and Ashlee; 9 grandchildren; sister, Jean Lowther. Friends may call at the MORELAND FUNERAL HOME, 55 E. Schrock Road, Westerville, Tuesday 6-8 p.m. and Wednesday 2-3 p.m. followed by a service at 3 p.m., Pastor Will Hartfelder, officiating. Private interment.
Condolences
Sam and Debra - May 5, 2014
Brad and Wendy; Alex and Ethan,
We are lifting you up in our prayers and asking the Lord to fill you with everything you need for this time of saying good-bye when you weren't ready or prepared to say good-bye. We empathize with your pain and love you all.
Gary & Sherry Phillips - May 4, 2014
Brad, Wendy and boys,
We are so sorry to hear of the unexpected passing of Brad's dad. We trust the precious memories you hold in your hearts will comfort you in the days ahead. Our thoughts and prayers are with you as you say goodbye for now to one you love.
Linda Walters - May 4, 2014
Bonnie, may you & your family find peace in the fact that Howard didn't suffer. I hope all of you can find comfort in all the fond memories & happy times that you shared with him.