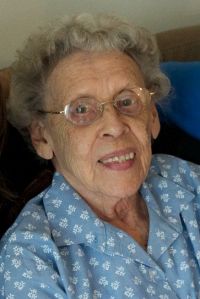 June 11, 1921 - July 8, 2012
Visitation
Friday, July 13, 2012 from 5-7 p.m.
Service
Saturday, July 14, 2012 at 10 a.m., St. Paul the Apostle Catholic Church
ANKOWSKI
Helen R. (Hunika) Ankowski, age 91, of Harris-Askins House, Westerville, Ohio, Sunday, July 8, 2012 at Columbus Colony Elderly Care, following a brief illness. Survived by son James (Mary Jo) Ankowski of Columbus; grandchildren, Nicole (Rob) Harvilla and Andrew (Amber) Ankowski; great-grandchildren Max Harvilla and Samantha Ankowski, all of California; sister Virginia Jewell of Warren, Ohio; nieces and nephews. Preceded in death by husband Hugo A. (Andy) Ankowski and sister Marjorie Moore. Longtime member of St. Paul the Apostle Catholic Church. Retired from Ohio Lighting. Helen leaves a wonderful legacy, she showed us how to really live life. To whatever she was interested, she fully committed her time and talents. Among some of her lifelong volunteer efforts are St. Paul School second grade volunteer aide, St. Paul Church greeter; Westerville Senior Center, where she worked in the office on the Center's newsletters, its history scrapbook, and conducted twice-weekly exercise classes. Member of the Senior Center Advisory Board and the Westerville Recreation and Parks Advisory Board. She also served as President of the Resident Council and the Welcoming Committee at Harris-Askins House. She enjoyed many hobbies including gardening, needlework, bridge club and scrapbooking. Friends may call at MORELAND FUNERAL HOME, 55 E. Schrock Road, Westerville, Friday 5 to 7 p.m.. Mass of Christian Burial will be held at St. Paul Catholic Church, 313 N. State Street, Westerville, Saturday, July 14, 2012 at 10 a.m., Rev. Fr. David E. Gwinner, celebrant. Interment St. Joseph Cemetery. In lieu of flowers, memorial contributions in Helen's memory may be made to St. Paul Church Pipe Organ Fund.
Condolences
Suzan Singh - Jul 11, 2012
I was so saddened to read of Helen's passing. Ardie and Jasmin join me in expressing our most sincere condolences.Helen was an amazing force,
one that will surely be felt in your family for generations to come.What a beautiful legacy! Our sympathy during this difficult time.
Suzan
Pat & Ken Pikor - Jul 11, 2012
Jim and Mary Jo and family, Deepest Sympathy on the loss of "Buci." You did an AMAZING job of taking care of her and your assistance in her passing is one of the most Beautiful Stories I have ever heard. Her suffering has ended and she has her Heavenly Reward and is with her husband and so many loved ones. May the Honor you showed her be of Comfort at this difficult time. Pat & Ken Pikor