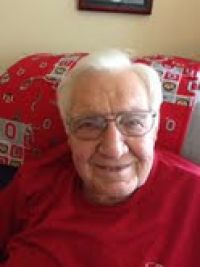 January 30, 1919 - September 30, 2013
Visitation
Sunday, October 6th from 4-7 p.m., Moreland Funeral Home
Service
Monday, October 7th 11 a.m. Moreland Funeral Home
WILSON
Harold Edwin Wilson, age 94, of Whitehall, passed away on Sept. 30. He was born Jan. 30, 1919 in Dayton to the late Florus and Friedonia Wilson. He was also preceded in death by his loving wife of 65 years, Betty; sisters, Alice Kathryn Spitler and Janet Dunn; and many other cherished family members. He is survived by brother, Roy (Linda) of Dayton; daughters, Michele Toney of Sunbury and Pamela Wilson of Whitehall; son, Harold Jr. "Rusty" of Whitehall; grandchildren, Joshua Matthaes, Rebecca Pharo and Jessica (Joseph III) Servick; great-grandchildren, Devon Matthaes, Madison and Cameron Pharo, and Mira and Joseph Servick; sister-in-law, Donna Harrington of Tucson, AZ; and many beloved nieces and nephews. Harold retired as director of admissions for the Ohio State University College of Dentistry. He graduated from Stivers High School in Dayton and attended Otterbein College, where he was a member of Zeta Phi fraternity. He served in WWII in the Army Air Corps. He was a 32nd degree Mason and a member of University Lodge #631. Harold was an active member of Whitehall United Methodist Church. Family will receive friends from 4 to 7 p.m. Sunday at MORELAND FUNERAL HOME, 55 E. Schrock Rd., Westerville, where a masonic service will follow at 7 p.m. and where service will be held at 11 a.m. Monday, Oct. 7th, Rev. Angie Sherer officiating. Interment Blendon Central Cemetery. In lieu of flowers, donations are suggested to the O' Club at Otterbein University, Rike Center, 160 Center St., Westerville, OH 43081 or Whitehall United Methodist Church, 525 Bernhard Rd., Whitehall, OH 43213.
Condolences
Steven and Jan Pekula - Oct 7, 2013
Our prayers are with the entire Wilson family. Harold will be deeply missed. Our lost is Heaven's gain. We can only imagine the grand reception which awaits him.
Don and Diane Thomas - Oct 6, 2013
We're thinking of you with caring sympathy in your loss. Your father will be missed by many.
Our Love and prayers,
Don & Diane Thomas
Joe - Oct 1, 2013
Just posted