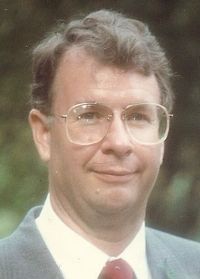 June 29, 1937 - September 26, 2011
Visitation
Friday, September 30th from 2-4 and 6-8 p.m.
Service
Saturday, October 1st at 5 p.m. Kingdom Hall of Jehovah's Witnesses
SCHNEIDER
Harold G. "Hans" Schneider, age 74 of Westerville, passed away on September 26, 2011. Hans was an outstanding husband and father who will be deeply missed. A member of the Westerville Congregation of Jehovah's Witnesses. He loved his God Jehovah and a strong example to everyone in his community, and served as a loving congregation elder for 39 years. As a retired business owner and professional engineer, he had a lifetime of accomplishments & patents. He is preceded in death by father Harold G. and mother Vida E. Schneider. sister and brother-in-law, Suzanne and Stanley Barr. Survived by his loving wife 53 years, Constance (Connie) J. of Westerville. daughter Keri (Peter) Schiller of Westerville, son David (Heidi) Schneider of Dayton and son Daniel (Lisa) Schneider of Central College. His grandchildren, who he loved, Allison Gordon, Erich Schiller, Kurtis Schneider and Karsten Schiller. Brothers-in-law; Bill Talbott, John (Debbie) Talbott and David (Renea) Talbott. Uncle to Douglas Barr, Randy Barr, Timothy Barr, Katrina Benton, Lauren Williams, Sean Talbott, Ryan Talbott, Kyle Talbott and many dear and faithful friends. He loved life and all those he knew in it. We will miss him dearly and loved him very much. Friends may call at the MORELAND FUNERAL HOME 55 East Schrock Road Westerville, Friday 2-4 & 6-8 p.m. Friday September 30, 2011. Memorial service will be held 5:00 p.m. Saturday October 1, 2011 at the Kingdom Hall of Jehovah's Witnesses, 421 East College Avenue Westerville, Ohio. Private Interment.
Condolences
DayStar Development - Sep 30, 2011
Our deepest sympathies for your loss. Hans will be truly missed.
Phil, Don & Tonya
DayStar
Aaron and Jennifer Cook - Sep 28, 2011
David, Heidi, Alli, Kyle, Kurt, Brittany…
How reassuring to have the knowledge of death and the promises of a resurrection. Knowing you will see him again in the new system is a true comfort indeed. We hope you all know we send our love to you all and even though we never met your dad he had to be such an extraordinary man to raise such a wonderful and spiritual son in you David. Your memories will sustain you until the resurrection In the meantime please know that you are in our prayers. We love you all very much!
For the rest of the family… May you feel Jehovah's loving arms surround you in your grief and comfort you in this time of distress. We will keep you in our prayers.
Aaron and Jennifer
Stacey Hatch - Sep 28, 2011
Dan – I am sorry for your loss and will keep you and your family in my prayers as you grieve. You have the comfort of knowing that he is resting until the Lord comes again.
I will not be able to attend the services because I leave to go out of town early Friday morning for a wedding and won't be back until next week. If I can help you in any way, please don't hesitate to call.