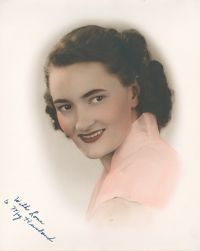 June 28, 1928 - June 29, 2011
Visitation
Tuesday, July 5, 2011 from 5-8 p.m.
Service
Wednesday, July 6, 2011 at 11 a.m.
EARICH
Grace (Rose) Earich, age 83, of Westerville, OH, died on June 29, 2011 at St. Ann's Hospital in Westerville. Grace fought a long battle with heart and kidney disease but left this world peacefully in the presence of her husband and children. Grace was born to Nelville Theodore and Martha Leora (Conger) Rose on June 28, 1928 at the family home in Meigs County, Ohio. From an early age, Grace worked on the family farm and also in other family homes, cooking, cleaning and assisting others in their care. Grace graduated from Racine High School in 1946, then moved to Columbus in 1947 and began working at Mills Restaurant as a hostess. Grace was introduced to Dean Earich by a mutual friend and they were married on June 26, 1949 at the Rose family home, and began their life together in Columbus, OH. Grace devoted her life to her family and raising her children. She also worked outside the home as needed in a variety of jobs. All the while she continued to care for others, and opened her home to care for her Aunt Myrtle many years ago and later, her Aunt Hazel. Grace is survived by her husband of 62 years, Dean Earich; sons, Daniel (Susan) Earich of Canton, OH and David (Lee Ann) Earich of Westerville, OH; daughter, Jill (Steve) Frey of Plain City, OH; grandchildren, Jennifer (Brad) Larkin, Emily Frey, Lauren Earich, Anna Earich, Benjamin Frey, Joseph Earich and Abbey Earich; great-grandchilden, Hannah Grace Butterfield, Matthew Aaron Larkin and Madelyn Rose Larkin; brother, Guy (Nancy) Rose of Longbottom, OH; many nieces and nephews. In addition to her parents, Grace was preceded in death by her daughter, Brenda Kay Earich, brother, Warren Rose and sisters, Thelma Walton and Evelyn Holter. The family extends their gratitude and thanks for the many years of dedicated and compassionate care for Grace by Dr. Doug Fosselman, Dr. Jack Stanko and their associates and colleagues. We extend our thanks as well to the St. Ann's ICU, Stepdown and Palliative Care staff for their care of Grace and family through her final days. Friends may call at the MORELAND FUNERAL HOME, 55 E. Schrock Road, Westerville, Tuesday 5-8 p.m. where service will be held Wednesday at 11 a.m., Rev. Ken Pugh, officiating. Interment Blendon Central Cemetery. Donations in Grace's name may be made to the American Heart Association or National Kidney Foundation.
Condolences
Lydia Evans - Jul 5, 2011
Dave, my thoughts and prayers are with you and family during this time of loss. God bless, Lydia Evans
Tina Williamson - Jul 5, 2011
Dear Jill;
I am so very sorry for your loss; She is finally at peace.
With deepest sympathy; Tina
Kathy & Lewy Fisher - Jul 5, 2011
Our sincere sympathy for your family during this very difficult time.
Millie Burke - Jul 5, 2011
Please pass on to Dave my condolances. So sorry about his Mom, I know he was really close to her.
Sara Natale - Jul 1, 2011
Dan– So sorry to learn of your mom's passing. You and your family are in our prayers.
Love from Cambridge,
Sara
Laura Bates - Jul 1, 2011
Thinking of you, Dan, and your family. Love, Laura