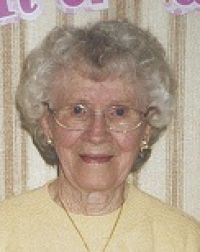 January 1, 1917 - May 3, 2013
Visitation
Saturday, May 11, 2013 from 1:30-2:30 p.m.
Service
Saturday, May 11, 2013 2:30 p.m.. Moreland Funeral Home
MURPHY
Gladys M. Murphy, age 96, of Westerville, OH. May 3, 2013 at St. Ann's Hospital. Attended Church of the Messiah United Methodist. Survived by son, John (Nancy) Murphy of Westerville, and daughter, Nancy (Justin) Shepard of Dowagiac, MI; 6 grandchildren and 8 great-grandchildren. Preceded in death by her husband, Francis R. Murphy, daughter, Carol and step-daughter, Mary Ann. Memorial service will be held at MORELAND FUNERAL HOME, 55 E, Schrock Road, Westerville, Saturday, May 11, 2013 at 2:30 p.m. with visitation 1 hour before the service, Justin Shepard, minister, officiating. Private interment Mifflin Cemetery.
Condolences
Ann & Dana Parker - May 10, 2013
Aunt Nancy, We are so sorry for your loss but so glad you were able to have your Mom with you for so long. God bless you at this difficult time. Our hearts go out to you & Uncle Buth, Patti & Paul & families. We love you and you are in our thoughts & prayers.
Craig Murphy - May 10, 2013
I want to tell my father how sorry I am that I haven't been a better son. I've always looked up to you and have always wondered why no matter how hard I tried, I could never be like you. Obviously Grandma did something right raising you and I'm extremely sad that she has passed on. The fact that I'm not able to be there for you during this time weighs heavily on me. Grandma was such a firecracker and I'm extremely proud to say that I'm her grandson. I just wish I was able to tell her goodbye. The universe now has her and I'm quite certain that she'll let us know "it's all good". I love you Dad and I'm so sorry I can't be there for you.
Debbie Murphy - May 10, 2013
I am so sorry that Grandma Murphy is no longer with us. It is a comfort that she didn't have to suffer long and that she will be with her husband and daughter in heaven. I wish we could be there to give our support. Please know that we are there in our hearts and she will never be forgotten. All my love, Debbie Murphy
Betty L. Love - May 7, 2013
I am so sorry to hear that you lost your special loved one.She was a wonderful mother,grandmother and a very special aunt.We will definately miss her.John" send me your email address when you get a chance,and i will send you a beautiful picture of her with the Indian that did Aunt Gay's service.We loved her".My heart goes out to your family.