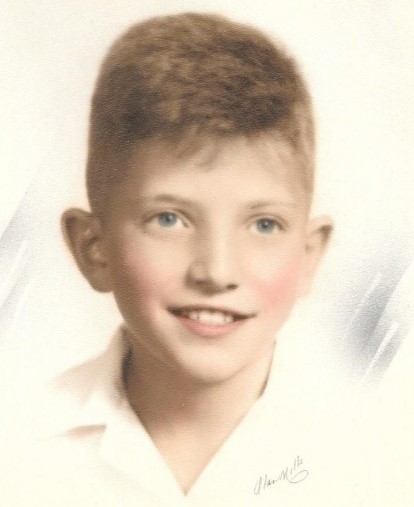 August 30, 1930 - May 24, 2016
Visitation
Tuesday, May 31st from 5-7 p.m.
Service
Tuesday, May 31st at 7:00 p.m.
Tuesday, May 31st from 5-7 p.m.JACOBY
Gerald (Jerry) E. Jacoby left this world, surrounded by family, on May 24, 2016 at Mt. Carmel St. Ann's Hospital. Born August 30, 1930 in Toledo, Ohio to Isabel (Jones) and Byron K. (Jake) Jacoby, he was the beloved husband, best friend and business partner to Mary, his wife of nearly 61 years. Together, they built a family, a home and their faith, also founding and operating the former Westerville Interiors furniture store in Uptown Westerville for 28 years. A friend to all he knew, Jerry lived in Westerville nearly his whole life. His greatest love was his family; but he also loved his town, being around people, creating beauty in their homes and had many stories to share with anyone who would listen. Jerry was preceded in death by Mary, his parents, younger brother, Thomas H. Jacoby and sister-in-law Lucy Jacoby. He was the "bestest Dad" to Janet (Todd) Walko, Kari (Ed) Schneider) and Robert (Kathy) Jacoby; loving "PaPa" to grandchildren Jack Fleming, Kacy Walko (Michael Stoner), Michael Walko, Luke Luthi, Nicholas (Laura) Jacoby, Kelli (Kyle) Fitzpatrick, Natasha Schneider and great-grandchildren Camilla Jacoby, Coen Stoner, Declan Fitzpatrick and Jacob Stoner. He is survived by them, along with his older brother Byron H. (Sam) Jacoby of Dayton, brothers-in-law Richard Longhenry and Hal Ranney, sister-in-law Margay (Ralph) Smith, extended family and friends. Visitation will be from 5:00-7:00 p.m. Tuesday, May 31, 2016, followed by a 7:00 p.m. service officiated by Dr. Richard Ellsworth at MORELAND FUNERAL HOME, 55 E. Schrock Road, Westerville, Ohio 43081.
In lieu of flowers, donations may be made to Central College Presbyterian Church, http://ccpc.us/index.php/about-us/giving, 975 S. Sunbury Rd, Westerville, OH 43081. Private burial at Blendon Central Cemetery; The family is extremely grateful for all the loving care given our dad by his friends at Feridean Commons Assisted Living.
Condolences
Shannon Dillon - Jun 1, 2016
Dear Janet, Kari, and Bob,
I'm so sorry to learn of your father's passing. I remember fondly the
time I spent with your mom and dad. They were so kind and warm to me.
I'm sorry I didn't go back to visit since leaving Columbus, and that
it's been so long since we spoke by phone. I am glad they are
together again. My thoughts and prayers are with you and your
families.
-Shannon
—
SHANNON L. DILLON
Bruce Hoyer - May 30, 2016
My heartfelt condolences to the extended Jacoby clan. Jerry's stories were always entertaining and he never told the same one twice. Maybe three or four times! LOL. He was a great guy that will be missed by all, but now he and his beloved Mary are together again at last.
Peggy King-Obal - May 30, 2016
Janet, Kari, & Bob, I am you Dad's 1st cousin. Being the youngest in that group of grandchildren, plus our family moved out of Ohio in 1968, I didn't get to know Jerry until a few years ago, when we began speaking by phone. I am SO glad we did, because he was quite the family historian, and I learned so much from him. He adored my Mom (Dorothy Jones Fulton-King), and always kept in touch with Dad (Walt King). I feel your loss, and send you all much love. I am missing him, too. . .
Charles Amstutz - May 29, 2016
Westerville has lost a wonderful member of our community. Thoughts go out to Bob and entire family.
Tom & Roberta Miller - May 29, 2016
Janet, Kari and Bob,
We wish to extend our deepest simpathy with the passing of your dad. Your dad and his brothers were Mom's (Rachel's) favorite nephews. The video tribute was amazing. Memories for you guys as well as me. There were pictures of your family and mine which brought tears to my eyes.
The last time we saw your dad was at "Bill's" funeral. Let's not wait until someone else leaves to get together.
Our love and simpathy to all the family,
Tom and Roberta Miller
Scott Moore - May 27, 2016
Bob, Janet, and Kari,
Hi it's Scott, the youngest of Berk and Peggy's boys. I'm so sorry to hear about your Dad. He was always such a great guy to me. When I was just 14 he gave me my first real job working as a "duster boy" at his store. I wasn't very good at my job, but he always had something nice to say or a funny joke to tell. I think you are well aware of how kind both of your parents were to others. I'm very sorry to hear the news, but they're resting in peace together.
Bud and Linda Dillon - May 27, 2016
Janet, Kari, Bob and families –
Please accept our sincerest condolences on the passing of your dad, a real special guy, with whom we have infrequently shared many stories about our individual families and the importance of family life in this complicated world. We especially recall with fond memories the several visits to California by Mary and Jerry particularly during Aunt Nell's final years. Then too there was the time and devotion spent with Shannon when she was at OSSB. Shannon still talks about these experiences. What a great pleasure to be able to call them family.
Bud and Linda
Kari Jacoby Schneider - May 27, 2016
Dad,
Wanted to let you know how much I miss you, but know how happy you are to see Mom again.
Love both of you bunches!
Your daughter
xoxoxoxoxo!!!
Larry , Michele Adkins - May 27, 2016
Bob and Kathy and family, We are so sorry to here of Mr. Jocoby's passing.
My family and all my uncles purchased furniture from your dads store
for years. 👼
It seems as so many of the greatest generation have traveled to heaven
over the years. They offered so much history , if days long gone.
God bless and prayers .