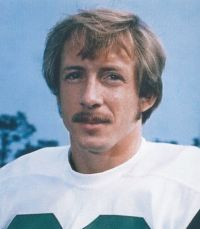 November 10, 1943 - May 7, 2013
Service
Private Family Service
SAUER
George H. Sauer, Jr., 69, formerly of Waco, Texas, passed away May 7, 2013 at Manor Care Health facility in Westerville, Ohio, following a lengthy battle with Alzheimer's Disease. He was preceded in death by his parents, George, Sr. and Lillian Sauer. George attended Waco City Schools and the University of Texas. He was a member of the 1963 University of Texas National Championship football team and starred in Texas' win over Alabama in the 1965 Orange Bowl game. He left the University of Texas after being drafted by the New York Jets. As a wide receiver, George was an integral part of the 1969 Jets' Super Bowl III victory over the Baltimore Colts. He broke into the starting lineup as a rookie, was named to four all-star teams, twice named all-pro and named Most Valuable Player by his teammates in 1966. After leaving the Jets, George joined the Carolina Chargers of the American Football Association as a player and defensive coordinator and then became head coach. George was an avid reader and had a passion for writing. George is survived by his sister, Dana Keifer of Westerville, OH; two nephews, Jeff (Laurie) Keifer and Greg (Laurie) Keifer and their families all of Westerville, OH; aunt, Joyce Harnett of El Solyo, CA; uncle Robert (Lee) Werner of Ft. Mill, South Carolina and numerous cousins. A private service will be held. Arrangements by the MORELAND FUNERAL HOME, Westerville, Ohio.
Condolences
Frank - Jun 2, 2013
I am in my 60's and was a big Jet Fan in the 60's (not so much now). Joe Namath, Don Maynard and George Sauer were my favorite players. Upon hearing of Mr. Sauer's passing it bought back memories when I was a kid as well as current feelings of an adult man that I now feel. I am glad he quit football (but at the time very disappointed) and followed the beat of his own drum (in a world that adulterates ballplayers – he did not buy into it). I have never written a condolence to a person that I never knew but because of the above and the fact that I also have a sibling (sister) who I love very much and am caring for (she has brain cancer) – my condolences go out to Dana and her family for the love and care she gave her brother and the loss that she must feel.
Stanley and Barbara Williams - May 15, 2013
We want you to know we are thinking of you at this time and wish to express our sympathy. We have many fond memories of you and your family.
-Stanley and Barbara Williams
Judy Wallace - May 14, 2013
Dana, I am so sorry to hear of George's passing. All of his Waco High classmates will be saddened by the news. The last time George and I visited on the phone was while he was here in Waco taking care of his Mother. He talked two hours telling me about the books he had written and numerology.
He will remain in my memory as the shy, quiet, athletic and very smart one in our class.
My sympathy to you and the family.
Doug Sirotiak - May 14, 2013
So sorry to hear of George's passing. I was a huge fan of him when he played for the Jets, having his poster hanging on my bedroom wall. I had the honor of meeting him years ago at a Jet's reunion in NJ. His was the only autograph that I ever paid for….and I have many of the 69 Jets. A part of my childhood died with him…God Bless you, George….and thanks for so many wonderful Sunday afternoons at Shea Stadium..You were a true Jet. R.I.P #83.
Ardith Mers - May 13, 2013
We first met George when he was in Edgewood Manor in a room near my brother Gene. He would stop by and chat with us, always a nice man. I later transferred my brother to Manor Care and was pleased seeing George there. They both connected to having met before. When we finally realized George's story, I asked him how he got to Westerville, He told me 'my sister lives here'. I then told him that is how Gene got here from Cincinnat that I was his sister living in Westerville. My husband is good with details of pro football teams. We also looked up his professional information in order to have a better conversation. George connected with that and even shared he felt his injuries effected his current situation. We were happy to hear him play piano to…definitely another talent. My brother passed away several years ago, so haven't seen George since then. We send our sympathy on the passing of your dear brother…a very nice man that we are glad to have met.
Kevin P. McCourt - May 13, 2013
I was just apprised of George's passing. I knew him in Charlotte, NC in the mid-1970s. I would appreciate an address to send a letter to his sister, Dana. Thank you, KPM
Sherald Kassay-Toth - May 12, 2013
I'm so sorry for your loss, George was a great guy. I new George back in the sixties, he was an usher in my wedding & I have been looking for him for a while. Now I understand why, I hadn't found him. I hope he had a great life, he deserved it. He will be missed.God Bless your family.May George rest in peace.
Lyna Sauer Norris - May 11, 2013
Dana,
When I read the paper today and saw George's passing, I was so surprised to know he (and you) were here in Westerville. Peter Sauer was my first husband. Our children live here in Worthington and Pete is now here as well living in a nursing home just north of Worthington.
He will be devestated to know that George was here within just a few miles from him and he never was able to reconnect. He would so love to hear from you or reconnect somehow.
I know you do not know me but I certainly remember your mother and father when I met them with Ed and Meda many many years ago.
I understand that there will not be a service for George and so I am trying to touch base with you this way.
If you would like to communicate with me or would like more information about Pete and his family here you may email me at lyna.sauer@kingthompson.com.
Of course you have my condolences and again I was schocked and saddened to see his passing and to know you both have been so close in proximity.
Sincerely,
Lyna (Sauer) Norris
Phil Cornell - May 11, 2013
Very sorry to hear of George's passing. I've been a NY Jets fan since 1963 when they were still the Titans and as a teenager, #12, #81 and #83 were always my 3 favorite players. Namath, Maynard and Sauer were always a threat to score on any play and put pass defenses back on their heels. The Jets have never had anyone like them since. So my heartfelt condolences to your family. George will always live on in my memory. Funny thing is, after growing up in Wesport, CT, Las Vegas and Detroit, I too ended up and am currently living in Westerville. Small world.