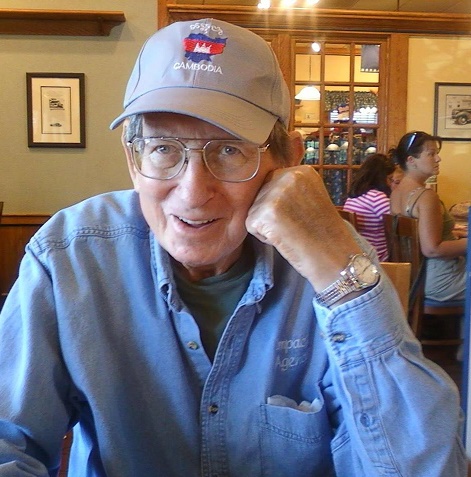 March 17, 1941 - January 25, 2015
Visitation
Friday, January 30th, from 5-8 p.m., Moreland Funeral Home
Service
Saturday, January 31st at 10 A.M. Moreland Funeral Home
Burial
Blendon Central Cemetery
COLLINS
George Cyrus Collins, aged 73, of Westerville, Ohio died on January 25, 2015 at Riverside Hospital, surrounded by family, after a long battle with heart and kidney disease. Born in Columbus, Ohio on March 17, 1941 to Joseph and Goldie Collins. George grew up in Victorian Village, liked to play at the Ohio State University farm and spent many days fishing along the Olentangy River. George is survived by his wife of 35 and a half years, Marian Sue Collins, and his children Joseph (Tammy) Collins, George Collins, Daniel (Angela) Farley, Goldie (Jack) Fraley, Benjamin Cyrus (Sarabeth) Collins, and son-in-law Tony Samples, sisters Shannon Sanders, Mary (Hiram) Muncy, and Patty (Jim) Gayheart, brother-in-law Mitchell (Linda) Huff, sister-in-law Dawn (Owen) Yoder and mother-in-law Lillian Huff and many nieces and nephews. He is preceded in death by his parents, sister Betty Lowe, daughter Vina Samples, granddaughter Alex Collins and grandson Henry Collins. George was a loving husband and father who adored his family. He was pleased to live long enough to spend time with his youngest grandchildren, and always enjoyed being a grandfather to 21 grandchildren and 13 great grandchildren. George worked for many decades in the electrical wholesale industry, including management and sales positions with Columbus Electric Sales, McKeever Electric, CESCO, and Star Electric. George raced stock cars at Columbus Motor Speedway for many years. He enjoyed taking his family camping, hiking and fishing at state parks. He enjoyed playing cards and watching professional wrestling with family. George was a kindhearted and generous man, a loyal friend, who supported many, helping contractors start new businesses, assisting those in need and serving his large family throughout his life. Friends may call at the MORELAND FUNERAL HOME, 55 E. Schrock Road, Westerville Friday from 5-8 p.m. and Saturday from 9-10 a.m. followed by a service at 10 a.m.. Interment Blendon Central.
Condolences
Anita Ebbert - Jan 30, 2015
Goldie, please know that you and your family are in my thoughts and prayers.
tina apollonio - Jan 29, 2015
So sorry for your loss, sweetie. We'll say a little prayer for you……..
Bill Perkins - Jan 27, 2015
I am so sorry to hear of your loss. We will be praying that God would comfort you with his healing spirit. Please let us know if we can do anything for you.
Rica Apollonio - Jan 27, 2015
I have known and worked with Goldie for many years. I have heard many wonderful things about George and all of her family. I feel very sad for your loss. My prayers and thoughts are with you all in your time of sadness.
Nancy Vogel - Jan 27, 2015
I had the pleasure of getting to know George through his daughter Goldie. She would come back from taking him home on Fridays with some sweet stories about their conversations. He made a very loving family. So sorry for your loss. God Bless you all.
Leslie Roof - Jan 27, 2015
I am so sorry for your loss. I have long admired the way your family has rallied together to care for George since his health declined. It's no doubt a tribute to the wonderful love and care he gave to you, his family. Please know we are praying for you during these difficult days. Love to all, Randy, Leslie & Ashley Roof
SCH - Jan 26, 2015
I am truly sorry for the loss of your dear loved one. May you find comfort in Gods promise to soon "swallow up death forever" and to "wipe away the tears from all our faces" (Isaiah 25:8)
Goldie Fraley - Jan 26, 2015
Forward