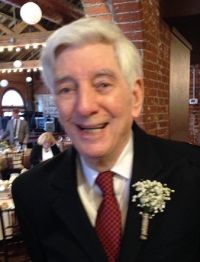 October 4, 1923 - October 27, 2014
Visitation
Wednesday, October 29, 2014 from 6-8 p.m.
Service
Friday, October 31, 2014 10 a.m., St. Elizabeth's Catholic Church
MAURER
Frank R. Maurer, age 91, of Westerville, OH. Passed away at St. Ann's Hospital October 27, 2014 after a short illness. Retired owner of Columbus Marble Products. Member of St. Elizabeth Catholic Church. Navy veteran of World War II. After retirement, Frank and his wife enjoyed 25 happy years in St. Petersburg, Florida. Survived by his children, Joy Maurer (Anne O'Leary), Peggy (John) Tillman, Patty (Dick) Mandrell and Rob Maurer (Jason Huddleston); grandchildren, Jennifer (Doug) Will, Maggie (Kyle) Buggie, Joni Mandrell and Chad (Jessica) Mandrell; great-grandchildren, Brayden and Madelyn Will. Preceded in death by his wife of 55 years, Ellen. Frank was known for his generosity, strong faith and love of his family. Friends may call at the MORELAND FUNERAL HOME, 55 E. Schrock Road, Westerville, Wednesday 6-8 p.m.. Mass of Christian Burial will be held at St. Elizabeth Catholic Church, 6077 Sharon Woods Blvd., Columbus, OH Friday at 10 a.m., Rev. Fr. Charles Cotton, celebrant. Entombment Resurrection Cemetery Mausoleum.
Condolences
Bill Riat - Oct 28, 2014
Joy, Peggy, Patty and Rob,
So sad to hear of your fathers passing. He was my Godfather and I have such nice memories of visiting your house with my Mom and Dad.
Rob was always shy and hiding behind your Dad's pants leg. Crazy memory, I know.
Your Dad was so much fun and you always felt comfortable with him.
Your a Dad and Mom were my parents best friends and in each other's weddings, it is the end of era of truly wonderful and kind people.
I am so sorry I can't be there for the Funeral, I am traveling and can not make it back.
Best wishes, hang in there,
Bill Riat