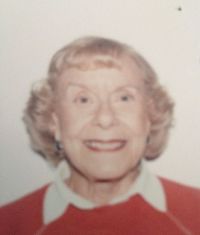 August 2, 1925 - February 2, 2013
Visitation
Tuesday, February 5th from 4-8 p.m.
Service
Wednesday, February 6th at 10:30 a.m. St. Paul Catholic Church
KRAFT
Elsie Loebig Kraft, 87, of Westerville, Ohio passed away peacefully on Saturday, February 2, 2013. Born August 2, 1925 to the late Frank and Mary (Schwartzer) Loebig. Elsie was preceded in death by loving husband, Jack Clifford Kraft. Elsie graduated from St. Joseph's High School in Mt. Oliver, PA, where she participated in many high school theater productions, as well as being a lifeguard and an avid swimmer, having won numerous medals in swimming competitions. Elsie received her dental hygiene degree from Eastman Dental Dispensary in Rochester, New York, and also attended The University of Pittsburgh. Elsie worked as a dental hygienist and a hygiene educator with the Brentwood, PA school district and loved educating and interacting with her elementary students. She served as President of the Western Pennsylvania Dental Hygiene Association. After moving to Westerville, Ohio, Elsie worked as an Office Manager in a Worthington area dental office, and was a Sales Consultant for Epcon Condominium Communities. Elsie spent her golden years volunteering at the Muirfield Memorial Tournament and at St. Ann's Hospital in Westerville, as well as an usher at the Palace Theatre in Columbus. Elsie is survived by her children: Dave (Debbie) Kraft, Bob (Tonda) Kraft, John (Kim) Kraft, and Doug (Marcy) Kraft. Grandchildren: Mandy (Zach) Moore, Liz (Brad) Comer, Ryan (Allana) Kraft, Kyle Kraft, Michael Kraft, Mallory (Wes) Serafin, and Rachel Kraft. Great-grandchildren Drake, Logan and Athena Moore. Sister, Laurine (Regis) Schuler and brothers Richard (June) Loebig, Frank "Bud" (Marly) Loebig, nieces and nephews.
Elsie's family will receive friends and visitors on Tuesday, February 5th from 4 p.m. to 8 p.m. at the MORELAND FUNERAL HOME, 55 East Schrock Road, Westerville, Ohio. A funeral mass will be held at 10:30 a.m. Wednesday, February 6th at St. Paul The Apostle Catholic Church, 313 S. State Street, Westerville, Ohio with Rev. Fr. David E. Gwinner. Interment will be held Thursday at Jefferson Memorial Cemetery, Pittsburgh, PA.
Condolences
Nancy Pacha-Virgil Hoffman - Feb 4, 2013
Doug,Marce and Family,
So sorry for your loss,she was quite a lady and devoted community leader and mother. You will be in our thoughts and prayers at this most difficult time.Please know we are here for you and send our love to all.
Vince and Torie Front - Feb 4, 2013
May many fond memories bring you comfort and peace at this sad time. Know that our thoughts and prayers are with you and your whole family.
Jude Endicott - Feb 4, 2013
My thought and prayers are with you. Jude