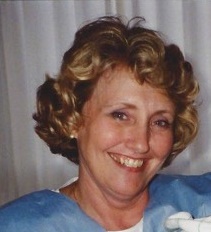 November 17, 1944 - May 1, 2017
Visitation
Thursday, May 4, 2017 from 5-8 p.m. at Moreland Funeral Home
Service
Friday, May 5, 2017 10:30 a.m., St. Paul the Apostle Catholic Church
McMANUS
Ellen A. (Walsh) McManus, age 72, of Westerville, passed away peacefully surrounded by her family May 1, 2017 at Select Specialty Hospital. Graduate of St. Patrick's Academy in Binghamton, NY. Retired as sales representative for Estee Lauder at Lazarus and later managed bridal salons at Lazarus and Cia's. Member of St. Paul Catholic Church. Survived by her loving husband of 52 years, Joe; children, Joe (Lisa) McManus, Katie (Scott) Messer, Bridget (Chris) Diehl and Kelly McManus; grandchildren, Elizabeth and Joey McManus, Lily and Ian Messer, Emma and Grace Diehl; brothers, Daniel (Shirley) Walsh and Edward (Patti) Walsh; sister Kate Walsh; in-laws, cousins, nieces and nephews. Preceded in death by her parents, Francis and Helen Walsh, and brother, Michael. In her retirement years, Ellen and Joe were active with the Irish and American Paediatric Society where she made numerous friends and enjoyed her travels to Ireland. Her smile was unforgetable and her warm personality made you always feel special. She enjoyed traveling to Wildwood, NJ and Acapulco with her children and grandchildren. She leaves behind a deep void in our lives. Friends may call at the MORELAND FUNERAL HOME, 55 E. Schrock Road, Westerville, Thursday 5-8 p.m.. Mass of Christian Burial will be held at St. Paul the Apostle Catholic Church, 313 N. State Street, Westerville, Friday at 10:30 a.m., Rev. Fr. David E. Gwinner, celebrant. Private entombment. In lieu of flowers, contributions may be made to St. Paul School Campaign in her memory. The family would like to thank the Doctors and Nurses at Mount Carmel West, St. Ann's and Select for their compassion and loving care of Ellen.
Condolences
Lisa Roush - May 5, 2017
I am so sorry for your loss. I knew Ellen since her and Joe along with Katie, Scott and the kids would come into the Westerville Grill years ago. Now working at Sunny Street Cafe, which Ellen and Joe would come in often, she will be missed. She was always smiling and sweet, I will miss that smile and that hello she would give me. She always asked about the family and that was so appreciated. She will be missed very much, prayers to the family.
Sandy Campbell - May 4, 2017
To The McManus Family,
I am so sorry for your loss. Please know that this is not permanent. God's words found in Revelations chapter 21 verses 3 and 4 where he has promised to eliminate death along with sickness and pain forever. Jesus spoke of a resurrection in John chapter 5 verses 28 and 29 where those in the memorial tombs will awaken from their sleep. May these words bring some measure of comfort to you. For more comforting words, please visit the website at JW.Org and type in "comfort" in the search bar.
Sincerely,
Sandy
Ron & Kathie Reich - May 4, 2017
Dear Joe and family…our deepest sympathy to you all. Ellen personified the very best of family values. Growing up with the McManus family was unforgettable. Her memories will comfort you for years to come. Sincerely, Ron & Kathie
Roger Harris - May 4, 2017
Joe and Family,
My deepest sympathy for your loss. May God comfort you in the days ahead.
Elaine - May 3, 2017
Sending warm thoughts…take care. Aunt Elaine
Scott Strader - May 3, 2017
We are very sorry for your loss and our thoughts and prayers are with all of you!
JoAnn Guiton Kunkle - May 3, 2017
Joe and Family , I am so sorry for your loss. Growing up about 4 years younger than you two, I admired your love for each other and I know that you have enjoyed and loved your family. I'm sure that God will continue to bless your family and Ellen and you all are in my prayers. JoAnnGuiton Kunkle