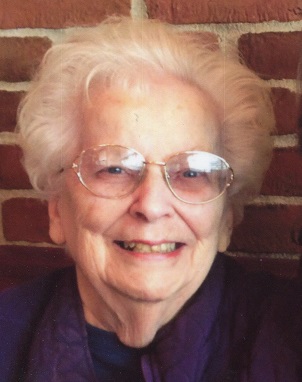 March 1, 1926 - December 10, 2017
Visitation
Wednesday, December 13th from 2-8 p.m. at Moreland Funeral Home
Service
Thursday, December 14th at 10:30 a.m. , St. Paul the Apostle Catholic Church
Burial
Blendon Central Cemetery
Elinor L. Alvarado, age 91, of Westerville, OH, passed away December 10, 2017. Formerly employed by the Ohio Education Association. Member of St. Paul Catholic Church since 1962. Elinor enjoyed spending time with family, painting and reading. Survived by her children, Mitch (Linda) Alvarado, Madalyn (Michael) Kemp and Philip (Meredith) Alvarado, Jr.; grandchildren, Mitchel D. (Melinda) Alvarado, Jr., David (Mary) Alvarado, Michael (Lisa) Brooks and Amanda Alvarado; great-grandchildren, Katy and Ella/Elinor Alvarado, Layno and Garrett Brooks. Preceded in death by her husband, Philip Alvarado, Sr.. Friends may call at the MORELAND FUNERAL HOME, 55 E. Schrock Road, Westerville, Wednesday 2-8 p.m.. Mass of Christian Burial will be held at St. Paul the Apostle Catholic Church, 313 N. State Street, Westerville, Thursday at 10:30 a.m., Rev. Fr. David E. Gwinner, celebrant. Interment Blendon Central Cemetery.
Condolences
Sandy Ullom Young - Dec 13, 2017
Your Mom & Dad were a true blessing to so many of us old Westerville children.. I thank God for your parents with all the love and compassion they shared with everyone they met. My thoughts and prayers are with you, Mitch, Madalyn & Billy. Another angel entered Heaven at this wonderful holiday season! Blessings, Sandy
Barb Bicsey/Ken Reese - Dec 13, 2017
We are so sorry for your loss. Your Mom was a wonderful person. Prayers to you all
chris - Dec 13, 2017
Phil,
So sorry to hear of your loss.
Chris & Leslie Bright
Aunt Josie and Uncle Del - Dec 12, 2017
Our sincerest condolences on the loss of your mom and a great lady. We're sure your dad was there to greet her and happy to be reunited with her again. Our thoughts and prayers are with you and your families.
Don Blakely - Dec 11, 2017
Phil, so sorry for your loss. May God be with you during this difficult time.