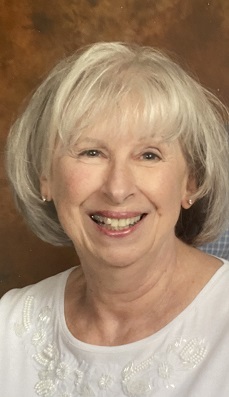 February 21, 1941 - July 17, 2022
Service
Saturday, July 30th 11 a.m. at St. Paul Lutheran Church
Elaine Mary (Spirko) Goias, 81, of New Albany, Ohio, passed away Sunday, July 17, 2022, at home in the presence of her loving family.

Elaine was born to Mary and Nicholas Spirko at Passaic General Hospital, Passaic, New Jersey. She was the second of four close sisters.

Elaine attended Yantacaw Elementary School and Nutley Middle School in Nutley, New Jersey. She graduated from Nutley High School and Berkeley Secretarial School in East Orange, New Jersey.

After secretarial school, Elaine was first employed as a secretary at Edwards and Kelcey until joining her eldest sister at ITT in order to be closer together. In 1975, Elaine moved to Westerville, Ohio, where she worked for Cigna Health, Battelle, and later joined and retired from Westerville City School District Administration Offices.

As a young girl in her middle school years, Elaine discovered a love for dance from a neighborhood dance teacher. She began taking formal dance lessons and participated in recitals throughout her younger years. Later in Ohio, Elaine further cultivated her love for music and dance as a member of the Westerville Song Spinners. Elaine was a natural on the stage and discovered her powerful, beautiful voice as she sang many solos and duets. She performed with the Song Spinners and the chorus of Columbus theatre productions at the Yassenoff Jewish Center. Elaine also cherished the opportunities to be asked and was blessed to sing for weddings of family and friends throughout the years.

Elaine loved her family and friends, being known for sharing her compassion, thoughtfulness, and positive outlook. She brought joy to everyone in her own unique ways including performing graceful songs and dance, sewing personalized quilts as hugs she could give, and baking treats to brighten days. From New Jersey to Ohio to California, Elaine touched us all with connections she created and we will continue to carry on in our many years ahead.

Elaine is survived by her beloved and devoted husband of 59 years, Thomas Goias, two loving daughters, Christine Delaney (Ryan Delaney) of Sunbury, Ohio and Lorraine Lee (Henry Lee) of San Clemente, California, and three adored grandchildren, Russell Delaney, Lauren Lee and Lucy Lee.

She is also survived on the Spirko side by her three sisters, Peggy Dimler, Mary Ann Hammond (Fred Hammond), and Irene Geiselmann (Ken Geiselmann), her dedicated nephew Nicholas Dimler, her caring and attentive nieces Lisa Mooney (Ed Mooney), Catherine Palamara (Michael Palamara), Tara Hammond, Cheryl Hammond, and Erica Brady (Matthew Brady). She is predeceased by her parents, Mary and Nicholas Spirko and brother-in-law, Thomas Dimler.

Additionally, on the Goias side by her sister-in-law Jean Goias, nephew Joseph Goias, and niece Catherine Goias. She is predeceased by her brother-in-law Robert Goias. Elaine will also be missed by many other loving cousins, family members and friends.

Please join the family to celebrate Elaines life. A memorial service will be held 11:00 a.m. Saturday, July 30, 2022 at St. Paul Lutheran Church, 4686 E. Walnut Street, Westerville, Ohio, 43081, with Pastor Jonathan Bull, as celebrant.

In lieu of flowers, donations can be made to St. Paul Lutheran Church, 4686 E. Walnut Street, Westerville, Ohio 43081
Condolences
Mary Menke - Jul 30, 2022
I was out with my son so could not attend.But as we were driving I thought about her beautiful voice and the fun times we spent together.
Stacey Emery-Walter - Jul 29, 2022
Kevin and I have such wonderful memories of your mom when we lived in Cincinnati. Such a kind, sweet and giving woman. You were extremely blessed to have such a wonderful role model. Love and hugs to your whole family.
Steve Delaney - Jul 29, 2022
Eternal peace Elaine and God bless Tom, Christine, Lorraine, spouses, grandchildren, family and friends. Steve and Neenah Delaney
Dawn Farrell - Jul 27, 2022
Remembering fondly! Not only as from Songspinner days but also sharing the Gallery Players stage in Funny Girl.