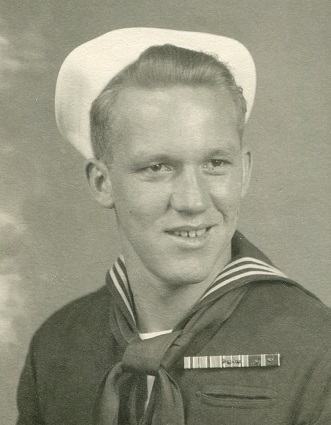 July 16, 1924 - January 20, 2018
Visitation
Saturday, January 27, 2018 from 10-11 a.m at St. John Neumann Church
Service
Saturday, January 27, 2018 11 a.m. at St. John Neuman Church
Edward D. Stackhouse returned to home port on January 20, 2018, having set sail on July 16, 1924 from Brooklyn, New York. He was surrounded by the love of family and friends throughout his journey. A proud Navy veteran of World War II, he was a dearly loved father
and PopPop, a lifelong lover of the sea, and an avid baseball fan, devoted to his Mets and Yankees. Beloved father of Kathleen Sibley, Edward (Rose) Stackhouse, Laura Shea and Roger Stackhouse; devoted PopPop to grandchildren, Matthew (Rose-Ann) Shea, Melissa (Brian) Hall, Ryan (Julie) Sibley, Jennifer (George) Agovino, Patricia (Mike) Accardi, Zachary and Madison Stackhouse. He was also blessed by great-grandchildren, some of whom were fortunate to live nearby; Brenna, Max, and Colin Hall, Grant, Evan, and Nathan Sibley loved playing cards with him and making him laugh. Preceded in death by parents, Edward and Eleanor, wives, Muriel and Joyce, siblings, Bud and Jeanne, granddaughter, Catherine, and sons-in-law, Grant Sibley and Richard Shea. Family will receive friends Saturday, January 27, from 10-11 AM, St. John Neumann Church, 9633 E. State Rt. 37, Sunbury followed by Mass of Christian Burial at 11:00 AM, Rev. Fr. Paul Noble, celebrant. In lieu of flowers, those who wish may contribute to Trinity United Methodist Church (memo Richard E. Shea Memorial Soup Kitchen), PO Box 92, Coram, NY 11727 or online to CHA Animal Shelter in Ed's memory..
Condolences
Herb Guyer-Sharfenaker USMC - Jan 24, 2018
Edward D. Stackhouse Jr.United States Navy.
WWII Veteran.
"One of" THE GREATEST GENERATION.
"Fair winds and following seas"
God Bless/RIP.A heartfelt Thank YOU,Edward for your service in WWII.The USA would NOT be as it is today.I treasure the freedoms for which YOU fought… And Semper Fi..Sailor rest your oar.