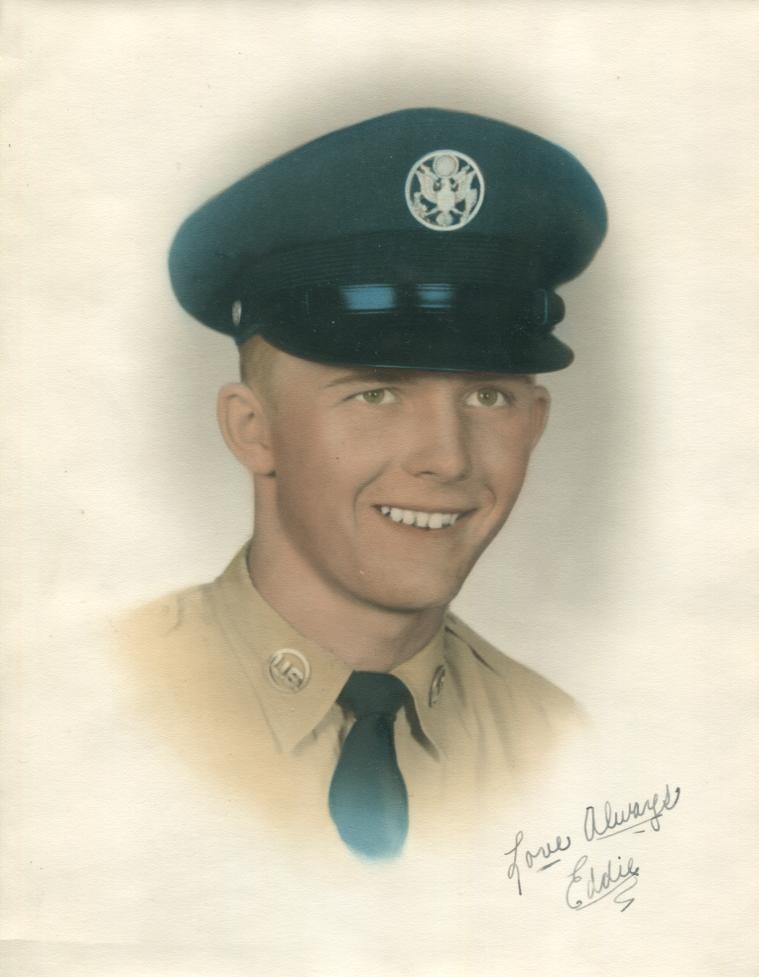 January 28, 1940 - October 3, 2016
Visitation
Thursday, October 6, 2016 from 5-8 p.m. at Moreland Funeral Home
Service
Friday, October 7, 2016 2 p[.m. at Moreland Funeral Home
Burial
Lafayette Memorial Park
SIERADZKI
Edward Sieradzki, age 76, of Westerville, OH, formerly of Allison, PA passed away on Monday October 3, 2016. He was born January 28, 1940 and attended Redstone High School in Republic, PA, where he met the love of his life, Diana Mikan Sieradzki, to whom he was married 52 years. Ed was an accomplished man, having served in the Air Force and retired from IBM after many years of service. He was a regular at the Westerville Rec Center, a dedicated member of St. Paul's church, a die-hard Pittsburgh Steelers fan & a devoted caretaker to his dog, Rocky, and his grand-pups, Lucas & Cleo. He adored his family & enjoyed partying with his life-long friends (the Huntley's, Boling's, Cook's, Latke's, etc.), as well as his newest friends, Cathe Zitko & Co. He was a man of great honor with a sensitive & giving heart. He made everyone who knew him feel as though they were the most special person on earth (that smile & laugh!) and was equally as cherished and adored by those that had the great fortune to have known him. Ed/Dad/Gramps/Dedo you are already missed and will be cherished forever. The world will not be the same without you. Ed is survived by his three children, Eddie (Noelle), Allen (Tara) and Michelle (Chad Head); five grandchildren, Evan & Allie (Paula), EJ (Lynnette), Ethan & Catherine Sieradzki and siblings, Janet (Roger Daniero) and Linda (John Masney). He was preceded in death by his wife, Diana Sieradzki & his parents, Edward and Anna Sieradzki. Friends may call at the MORELAND FUNERAL HOME, 55 E. Schrock Road, Westerville, Thursday 5-8 p.m. where Liturgy of the Word will be held Friday at 2 p.m., Rev. Fr. David E. Gwinner, presiding. Entombment in Lafayette Memorial Park, Brier Hill, PA Saturday at 11 a.m..
Condolences
Carrie & Larry McKinney - Oct 10, 2016
Sorry we couldn't make it to the service – we were traveling back from vacation. Our neighborhood won't be the same without your dad! Please let us know if you need anything. Our thoughts and prayers are with you!
Barbara C. Lehew - Oct 9, 2016
Janet and Roger
My deepest sympathy to you and yours in the passing of your brother, Ed and his wife Diana. This is such a difficult time for your family.
May God send his blessings.
Bill Anderson - Oct 5, 2016
My Condolences and Sympathy
David and Judy Peterson - Oct 5, 2016
To: Michelle, Eddie and Alan and your families. May your father, grandfather, rest in peace. God Bless you all. Much love, Dave and Judy
Ned and Susan Natale - Oct 5, 2016
Our prayers are with you. Jay and Roger; Linda and John, Joey and Kelly and all the Sieradzki Family. Love to you all.
Joan,Paul, and Maureen - Oct 5, 2016
Janet and Linda~We are saddened by the passing of your brother and our cousin, "Junior". Our condolences to you and all of the Sieradzki family.
Joe & Maryann Swinglish - Oct 5, 2016
Ed was always friendly, and had a positive attitude. We will miss Junior's never-ending smile and sparkling personality. Our deepest sympathy to the entire family.
Herb Sharfenaker USMC - Oct 5, 2016
God Bless and Thank YOU, Ed for your service in The United States Air Force…. RIP …. And Semper Fi. "The Eagle Has Landed"
Also Al our sincerest sympathy for you and your family.Remembering the good times in Baseball,and at Rio.May the many good memories help to heal your loss..and God Bless.
Herb,Debbie,Herbie and Robie Sharfenaker
David and Judy Peterson - Oct 5, 2016
Our deepest sympathy to Janet, Linda, Roger and John on the loss of your beloved brother. Cousin Judy and Dave
Pat and Ted Sheroke - Oct 5, 2016
Janet, Ted and I send our condolences to you and your family. Our thoughts and prayers are with you and all of the Sieradzki family.
Wilma (Gribble) Davis - Oct 5, 2016
I knew both of your parents from Redstone High School. My sincere to your whole family. Many fond memories.
Bill and Laura Childs - Oct 5, 2016
Our sympathy
Tom and Arleen (Wiland) Duda - Oct 4, 2016
Our deepest sympathy to your family. We enjoyed so many fun times at both the Class of 57 and Class of 59 reunions. Reunions will not be the same without you. Also had so much fun in school with Diana. – Such a great couple!
Butsey &Tina Kolessar - Oct 4, 2016
Janet & Roger
Your family has our deepest sympathy. Ed will be in our thoughts and prayers
Tina and Butsey
John Slusarick - Oct 4, 2016
Condolences and Sympathies to Ed's Children, Grandchildren,and cousins Janet and Linda
May he rest in Peace!
Cousins, Robbi and John Slusarick