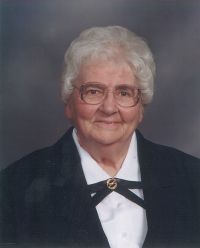 May 5, 1922 - May 23, 2014
Visitation
Tuesday, May 27, 2014 from 6-8 p.m., Moreland Funeral Home
Service
Wednesday, May 28, 2014 10:30 a.m.,. Moreland Funeral Home
KENNEDY
Edith M. (Burton) Kennedy, age 92, a long time resident of Powell, OH passed away Friday, May 23, 2014. She was born in Westerville, OH where she graduated from High School. Edith was a homemaker, active in the church choir and played the organ for many years. Survived by her son, Richard (Deborah); daughters-in-law, Pam (Blazek) Kennedy and Margaret (Cotterman) Kennedy; grandchildren, J.R. (Rebekah) Kennedy, Erin Kennedy, Kate (Corey) Fearn and Rebecca (Jason) Morey; great-grandchildren, Terry Fearn, Emma and Ashton Kennedy, and Nash Morey; brother, Clem Burton. Preceded in death by her husband, John S.; sons, John, Jr. and James W.; and brother, Art Burton. Friends may call at the MORELAND FUNERAL HOME, 55 E. Schrock Road, Westerville, Tuesday 6-8 p.m. where service will be held Wednesday at 10:30 a.m., Larry Butterfield, officiating. Interment Smith Cemetery. In lieu of flowers, contributions may be made to Ohio Health Hospice, c/o Kobacker House, 800 McConnell Drive, Columbus, OH 43214.
Condolences
Michelle Burton - May 25, 2014
Rick, my deepest sympathy to you and your family. I will always cherish the memories of summers spent with Aunt Eddie and Uncle John. I am so glad I was able to spend a little time with her in February. Treasure the memories, they will keep our loved ones with us forever.
Pat and Phil Bailey - May 24, 2014
Rick and Deb,
Sorry to hear of "aunt" Edith's passing. Memories of great family gatherings, an abundance of food and warm hospitality will always fill our hearts. May you find comfort in this time of grief. Sharing in your loss.