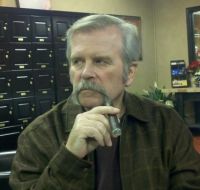 May 26, 1940 - February 21, 2012
Visitation
Saturday, February 25th from 1-4 p.m.
GREEN
Ed Green, age 71, of Galena, OH. Passed away February 21, 2012 at home. Full time auctioneer for 45 years and owner of Green and Green Auctioneering. An avid outdoorsman and hunter. Ed also enjoyed raising and racing harness horses, member of OHHA. Survived by his wife, Cherie; son, Steve (Julie) Green, daughter, Chris (Tim) Bright, all of Westerville; 8 grandchildren and 1 great-granddaughter; brothers, Joe (Bea) Green of Ruskin, FL and John (Liz) Green of Lexington, KY; nieces and nephews. Preceded in death by his parents, Faye and Leon "Shady" Green. Friends may call at the MORELAND FUNERAL HOME, 55 E. Schrock Road, Westerville, Saturday 1-4 p.m. followed by a service at 4 p.m., Dr. Richard Ellsworth, officiating. Private interment. In lieu of flowers, contributions may be made to Mt. Carmel Hospice, 1144 Dublin Road, Columbus, OH 43215 or O.S.U. Neuroscience Center, 456 W. 10th Avenue, Columbus, OH 43210.
Condolences
Fred Brong - Mar 2, 2012
Steve and Family. My sincere condolence on Ed's passing. I just read the thanks in the Dispatch and was not aware of this. Certainly your father was a good man and someone I will always remember with great fondness and respect. The best auctioneer in the business. His charity in allowing me to become an auctioneer….coupled with your pushing him have certainly bettered me in life. Very togh I am certain as I know how close you were. I hope all is well with you. Eddie was a good one….they don't make them like that anymore.
Regards…Fred Brong
Jude Van Paepeghem - Feb 26, 2012
Steve and Chris, my deepest sympathies to you and your families. You are in our thoughts and prayers. Jude and Jennifer
James L. Harter - Feb 25, 2012
I send my deepest sympathies to you and your family.
Cara Rogers - Feb 24, 2012
Our Deepest Sympathy to you, Chris, on the passing of your father. Also to Steve and the rest of your family.
Much love…
You're in our thoughts & prayers.
phil - Feb 24, 2012
Steve and all, you and your dad have made a big impact with your professional auctions in this area. We'll still hear Ed's voice through you. I wish you all the best. phil stith
Darla Gaskin - Feb 22, 2012
Cheri and Family, My heart is heavy today as I heard the news of Ed. I am praying that you all find strength to get through this tough loss of a great man. I will remember him as a very good friend to our family and esppecially my parents. His kindness was surely felt by his friendship to us. God Bless you all and Rest in Peace dear Ed. Love Darla