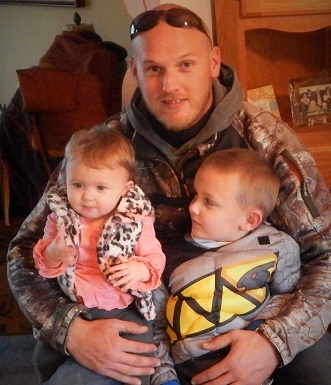 April 29, 1989 - July 12, 2017
Visitation
Tuesday, July 18th from 2-4 and 6-8 p.m. at Moreland Funeral Home
Service
Wednesday, July 19th at 11:00 a.m. at Moreland Funeral Home
LYNCH

Dustin Michael Lynch, 28, passed away suddenly the evening of July 12th on a winding road that he loved to drive, deep in the heart of Gods country, when the Good Lord decided to bring him home. His greatest love was for his children, Mason and Avery, to whom he was such a loving and devoted father. Born April 29, 1989 to his beloved Mother, Debbie and Father and Best Friend, Brett Lynch. He graduated in 2008 from Delaware Joint Vocational School / Highland HS. He worked as a High Voltage Foreman at Vaughn Industries where he excelled at teaching others his trade. He is survived by his son, Mason; daughter, Avery; parents, Brett and Debbie Lynch; loving sister, Danielle Lynch (Robert Gendron); Grandmothers Sally Shively and Jan Speakmon; and his very best buddy, Chris Trego. He will deeply be missed, and forever in the hearts of his uncles, especially his Uncle Steve, aunts, cousins and good friends. He was preceded in death by Grandfathers Fred Curran, Pa-Pa Roger Shively and Jack Speakmon. In Lieu of Flowers, contributions may be given to his childrens college fund c/o Key Bank account ending in 3140. Visitation will be held Tuesday, July 18th from 2-4 and 6-8 p.m. at the MORELAND FUNERAL HOME 55 East Schrock Road, Westerville, where a service will be held Wednesday, July 19th at 11:00 a.m. Bob Lynch, Officiating.
Condolences
Sheila & Jimmy - Jul 17, 2017
With our hearts hanging low and sincere tears in our eyes. Dustin you will always have a big place in our hearts, mind and soul. God needed you in heaven even though we don't understand why. Our prayers our with your family, your kids. I know you will help to hold our baby Olivia and take care of her till I get to heaven. I pray for your family to be able to go on. Loss is so painful that we wonder if we can take our next breath. You will be loved forever and never forgotten. With Deepest sympathy. Love you Dustin.
Dan, Lisa and Deven Busse - Jul 17, 2017
Words can't express how sorry we are for your loss. Our hearts bleed for you and your family.
Larry & Patty Weis - Jul 16, 2017
We were so sorry to hear of Dustin's passing. May God hold you all in his arms and give you comfort. I pray that Mason and Avery will be able to hold on to dear and good memories of their daddy. Cassie hold your babies tight while they are little and comfort each other.
Love Uncle Larry and Aunt Patty.
Linda Lynch Finnerty - Jul 15, 2017
Words cannot express how much my heart is breaking. Brett, Debbie, Dani, Mason, Avery & Cassie, saying I'm sorry doesn't begin to express what is in my heart for all of you. I send love to each and every one of you. Dusty will be missed so very much. You will all be in my thoughts and prayers.