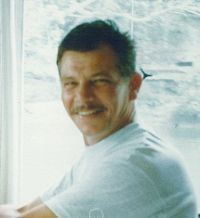 February 10, 2011
Visitation
Monday, February 14th from 2-4 and 6-8 p.m.
Service
Tuesday, February 15th at 10:30 a.m. Moreland Funeral Home
GIBSON
Douglas M. Gibson, age 64, of Westerville, Thursday, February 10, 2011. Doug was a retired diesel mechanic. He was an avid race car enthusiast and once featured in Hot Rod magazine with his race car. Survived by his daughter, Maralina (Don) Patton; sisters, Christen (Keith) Heaston, Bonnie (Lee) Adkins and Juanita Gibson; brothers, Junior Gibson and Thurman (Dreama) Gibson;
along with many good friends. Preceded in death by his parents, Anthony and Ella Mae Gibson, and brother Elmer. Friends may call at the MORELAND FUNERAL HOME, 55 E. Schrock Road, Westerville, Monday 2-4 and 6-8 p.m. where service will be held Tuesday at 10:30 a.m., Pastor Stephen Kirby, officiating. Interment Union Cemetery. Contributions may be made in his memory to Mt. Carmel Hospice, 793 W. State Street, Columbus, OH 43223.
Condolences
John Doyle - Feb 14, 2011
Doug was my uncle even though were not blood related I always thought of him as my uncle even after his divorce. He was a hell of a man. Always laughing, smiling, and having a good time. He made every family reunion a fun time for me. That four hour drive was worth it every year to come and see him and he will definitely be missed by us in Warsaw. But I know he's in a better place now. I'll always remember him and that yellow truck and most recently his little Metro and of course his PBR. He was a great man and will be missed tremendously. But one thing I noticed on his obituary was there was no mention of his significant other, Shirley. I know he loved her and I send deepest sympathies to her for this loss.
Cousin Wes - Feb 12, 2011
Cousin Marlena-n-Don sorry to hear of your loss. Maralena your pops was a one of a kind. And I'll never forget the time he told me of your 1st date w/Don…da hammer!!! What's it fer? That proved that you are/were "da apple of your poppa's eye." I love ya homegurl!!!
Wes, Cheryl, and daBoyz