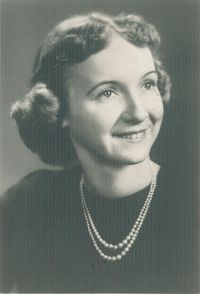 April 10, 1927 - August 29, 2014
Visitation
Thursday, September 11th from 5-8 p.m.
Service
Friday, September 12th at 11 A.M. Moreland Funeral Home
HARRIS
Dorothy McConnell Harris. Dorothy was born April 10, 1927 in New Concord, Ohio and passed away Friday, August 29, 2014. She grew up in Cambridge, Ohio and went to Cambridge High School. After graduation she attended Bethany College in West Virginia for two years. In the summertime when she returned to Cambridge and she met the love of her life in Everett Louis Harris. Dorothy and Everett completed their college education at Ohio University where Dorothy received a BA in English. They married March 30, 1952 in Cambridge, Ohio and moved to Columbus, Ohio where Everett had secured employment as an engineer. After the birth of her three children, she spent the next 20 years as a homemaker. As the last child graduated high school, she went to work for the Westerville Public Library and stayed there for 13 years. After retirement, Dorothy and Everett spent a lot of time traveling, visiting with friends and enjoying their grandchildren. Dorothy is preceded in death by her parents Robert and Alice McConnell, husband Everett Louis Harris, brother Robert and Betty (sister-in-law) McConnell. She is survived by her children Scott Harris, Cindy (Scott) McLean and Steve (Rhonda) Harris. Dorothy is also survived by grandchildren Megan (Tyler) Brooks, Michael (Rizelle) McLean, Collin Harris, Josh and Evan Engler, and great-grandson Kieran Brooks. Friends may call at the MORELAND FUNERAL HOME, 5 E. Schrock Road, Westerville, Thursday, September 11, 2014 from 5-8 p.m. where service will be held Friday, September 12, 2014 at 11 a.m., Rev. Mark Gauen, officiating. Interment Blendon Central Cemetery. In lieu of flowers, the children request that donations be made to OhioHealth Hospice.
Condolences
Joan Bird - Sep 11, 2014
Our sincerest condolences to all the Harris family.
Joan Bird
The Michaels Family - Sep 5, 2014
Our thoughts and prayers are with your family.
doug & rhonda mclean - Sep 3, 2014
Our deepest condolences go out to you and your family. Our thoughts and prayers are with you.
BRENDA LARWOOD - Sep 3, 2014
So sorry for your loss. Peace that passes all understanding to you and your family.
TERRY SMITH - Sep 3, 2014
MY CONDOLENCES GO OUT TO THE FAMILY.