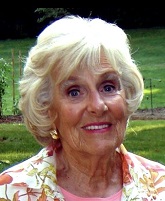 June 14, 1927 - February 22, 2018
Visitation
Tuesday, February 27th from 10 a.m. to 12 p.m. at Moreland Funeral Home
Service
Tuesday, February 27th at 12 p.m. at Moreland Funeral Home
Burial
Blendon Central Cemetery
Dorothy Ann Engel was born June 14, 1927 and peacefully departed this life on Feb 22, 2018. Her parents, Luther and Blanche Jones, preceded Dorothy in death. Her son Jay Engel (Kathy) and daughter Jennifer Broderick (Jim) survived her. Grandma or Nana is also survived by her six grandchildren: Jason Engel (Ivonne), Kristy Shepard (Brook), Jared Engel, Kate Chapman (Scott), Bethany Broderick (Jimmy) and Matt Broderick (Katie). Great grandchildren Jace Engel, Colin Engel, Peyton Engel, Ellie Chapman, Price Chapman, Fede Becerra, Blake Broderick and Gavin Broderick also survived Dorothy. Dorothy's greatest love was her family, she was purely and unselfishly devoted to their wellbeing. She devoted most of her life to caring for her family, which she felt was her number one priority. Dorothy also enjoyed working with flowers, listening to music, reading and spending time with friends. Her lifetime accomplishments include 4H Club leader, Cub Scout den mother, Past General Chairman of Twig and many church leadership positions. Dorothy was affectionately known as Dot or Dottie by her many friends from Mifflin, Buckeye Lake, Little Turtle and Windemere communities. "Mom" was greatly loved and adored by Jay and Jenny. All of her grandchildren's friends called her "Grandma Engel" or "Nana" with much love and affection. Her presence will be greatly missed but her spirit will live on in each of us forever. Our family wishes to extend thanks to the caregivers at Parkside and Danbury facilities and Capital City Hospice for her care and comfort. Our family will receive friends on Tuesday Feb 27 from 10am-12pm at MORELAND FUNERAL HOME 55 East Schrock Road, Westerville with a service immediately following. Pastor Will Hartfelder officiating. Burial to follow at Blendon Central Cemetery.
Condolences
Luanne Loofbourrow Clevenger - Mar 9, 2018
Dear Jay and Jenny,
Somehow I missed Dot's obituary. I just wanted to send along special thoughts. Thinking of Dot brings back wonderful memories of days gone by.
Luanne
Marv Benson - Feb 26, 2018
Jenny and Jay: I am very sorry to hear of your mother's passing and send my sincere condolences to each of you and your families for your loss. Dot always made me feel welcome in your home. I have many fond memories of her.
Jean Hanshaw - Feb 25, 2018
So sorry for your loss prayers for family.
Linda (patty) Layne - Feb 25, 2018
Jenny.Matt and Blake , my sincerest condolences for your loss all of you are in my prayers.