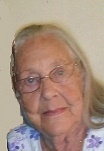 June 21, 1925 - December 17, 2015
Visitation
Visitation Monday, December 21st from 5:00 PM-8:00 PM at Moreland Funeral Home
Service
Tuesday, December 22nd 11:00 AM Moreland Funeral Home
Burial
Forest Lawn Memorial Gardens
MILLER
Doris J. Miller, age 90, of Westerville, passed away December 17, 2015 at St. Ann's Hospital. Attended New Life Pentecostal Church. Beloved mother and grandmother. Survived by children, Bill (Katharina) Christensen of Westerville, Linda (Dan) Ceneskie-Price of Galena and Michael (Christy) Miller of Bellefontaine; step-children, Mark, Marty, Mitch, Melinda and Monica Miller; 10 grandchildren, many step-grandchildren and many great-grandchildren. Preceded in death by her husband, Ray G. Miller, 1 brother and 3 sisters. Friends may call at the MORELAND FUNERAL HOME, 55 E. Schrock Road, Westerville, Monday 5-8 p.m. where service will be held Tuesday at 11 a.m., Pastor Mark Steir, officiating. Interment Forest Lawn Memorial Gardens.
Condolences
S. Hamm - Dec 23, 2015
My sincere condolences to your family during this difficult time. May you turn to "the God of all comfort" to help you cope with your loss. (2 Cor. 1:3,4) And take comfort in knowing the hope he has in store for our dead loved ones. (John 5:28,29)
Bonnie - Dec 19, 2015
May the peace of Christs love weave through you all at this time. She was always a presence of strength and love. She is with those that went before. And is finally out of the illness that kept her in bed and now has allowed her to soar with the angels of heaven. Rest in peace my friend for always.