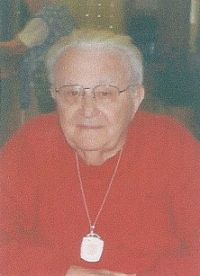 July 13, 1924 - November 22, 2013
Service
Saturday, January 25, 2014 at 10:30 a.m., Central College Presbyterian Church Chapel
MYRIO
Dr. Donald A. "Sonny" Myrio, age 89, of Columbus, Ohio, passed away on November 22, 2013 at The Village at Westerville Retirement Center where he enjoyed residency since 2008. Raised in his beloved Bellaire, Ohio, where his academic talents at Bellaire High School gained him the opportunity to matriculate at William and Mary in 1942, and where as the student manager of the high school football team, created a lifelong fan and booster of Big Reds football. At William and Mary Don enlisted in the rigorousV-12 Naval Reserve Program for aspiring medical and dental officers and was sent to the University of North Carolina, and then to Case Western Reserve where in 1948 received his D.D.S. and was commissioned in the U.S. Navy Dental Corps..Dr. Myrio served for many years in the Navy aboard ship, in Europe and the United States, rising to the rank of Lietenant Commander. After the Navy he taught at the O.S.U. School of Dentistry, worked for the Ohio Department of Health dental division and had his own practice for decades on West Broad Street in Columbus, Ohio. Preceded in death by his parents, Donald and Theresa Crosetti Myrio, by his wife of 48 years, Virginia Justice Myrio, originally of Piketon, Ohio, and his sister, Joanne Myrio Leasure. Dr. Myrio is survived by many nieces, nephews and cousins. Don and Virginia were special, loving mentors for many nieces and nephews. In marriage they enjoyed many travels, compassion for Ohio State sports, raising schnauzers, their home and great neighbors in southwest Columbus. Memorial service will be held at Central College Presbyterian Church Chapel, 975 S. Sunbury Road, Westerville, OH on Saturday, January 25, 2014 at 10:30 a.m., Rev. David M. Redding, officiating.
Condolences
Maria (Moore) Knezovich - Nov 28, 2013
Very sorry for your loss. I have missed Don so much. I think about him and Virgina all the time. He was a wonderful man and I know he repeated stories alot, but I enjoyed every single one of them. I'm sure he was the life of the party where he lived.