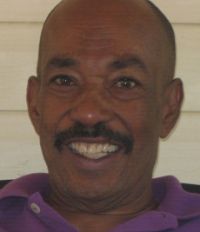 December 24, 1947 - October 16, 2011
Visitation
Thursday, October 20th 2-4 and 6-8 p.m.
Service
Friday, October 21, 2011 10:30 AM St. Paul the Apostle Catholic Church
MATTISON
David 'Michael' Mattison, age 63, of Westerville, OH went to be with the Lord on Sunday, October 16, 2011. He worked for 25 years at OSU Physical Facilities & Maintenance. Member of Holy Rosary and St. John Church. Graduate of South High School. Veteran of U.S. Air Force. Member of Alpha Phi Alpha Fraternity, Inc. Enjoyed camping, traveling, fishing, photography and spending time with the family. Preceded in death by his father, Nathaniel Mattison and grandparents, David and Martha Gordon. Survived by his mother, Lois A. Stewart, wife Petra Duran; daughter, Michelle R. Pollard, Lisa (Herman) Pollard Brown, Myisha (Antonio, Sr.) Sears and Leticia A. Pollard; grandchildren, Matthew T. Harrington, Clarence W. Daniels III, Antonio Sears, Jr., Morgan Sears; brother James Mattison; sister, Brenda (Kevin) Brake and many loving brothers and sisters-in-law, aunts, uncles, nieces, nephews, cousins and many very dear friends. Visitation will be held at the MORELAND FUNERAL HOME, 55 East Schrock Road, Westerville, OH, Thursday, October 20th from 2-4 and 6-8 p.m. with Rosary services at 7 p.m. A Mass of Christian Burial will be held 10:30 a.m. Friday, October 21st at St. Paul The Apostle Catholic Church, 313 North State Street, Westerville, OH. Fr. Josh Wagner celebrant. A meal will be served immediately following the services at St Paul. A memorial service will be held in Toledo, OH at a later date. Internment at Dayton National Cemetery. Donations may be made to the Family c/o Moreland Funeral Home or HRSJ Church.
Condolences
Marva Bailey - Oct 20, 2011
I am so sorry for your loss and will keep all of the family in my prayers.
God Bless
Terry McCumber - Oct 20, 2011
I am so sorry to hear of your loss.
Ruth & Charles Keels - Oct 19, 2011
So sorry to hear of your loss, we will miss Michael very much. Petra & family you are in our prayers.